Whizzy Lizzie's Royal Rush (50 mins)
Whizzy Lizzie's Royal Rush (50 mins)
10,343

reviews
It's about time we had a right royal celebration - and it just so happens the biggest one in history is about to begin!
This June Her Majesty The Queen will become the first British Monarch to celebrate a Platinum Jubilee after 70 years of service - this is a truly impressive achievement, and Thames Rockets plan to celebrate in style!
Step on board your 'royal' red rocket at the world famous London Eye - bunting aplenty! We'll have the pier decked out like a street party in honour of the four day event - just bring your flags along to wave across the waves!
Our award-winning guides (as always) will be on hand to offer the juiciest royal tales and stories throughout British history. See TWO official royal palaces along the way - the Palace of Westminster and the truly historic Tower of London, along with landmarks that have shaped generations of royals from William the Conqueror to Elizabeth II herself.
Then the real fun begins! Find out why Thames Rockets have been voted the #1 speedboat operator in the UK with our famous blast around Canary Wharf. With our trademark Thames Rockets medley playing through the speakers the party is well and truly ON!
It's time for a right royal rave - with Whizzy Lizzie's Royal Rush!
She's ready. We're ready. Are you ready?!
Sailing from Thursday 2nd June to Sunday 5th June 2022.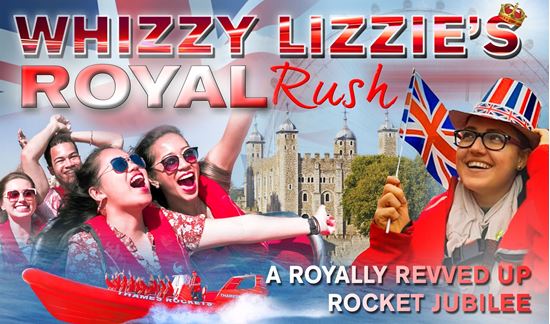 "IF IN LONDON 100% DO THIS"
Absolutely amazing - I live in London and can't believe we have never done this before! we have done most things and this defo tops everything - it is worth every penny the thrill you get is amazing - the tours are just amazing we laughed the whole way down the river. This would make the perfect gift as well!
"This Rocked!"
We did just the first day we were in London. We should've done this every day in London as it's the best thing we've done so far after four days in London. It was an absolute blast!
"Best experience in London"
We absolutely loved the entire experience , Geoff our tour guide was hilarious and made the experience amazing. I would definitely recommend this to all my friends. My 6 year old said it was so much fun and wanted to ride again. Perfect Covid safe day out.
"Great experience"
Went on here last night, Nick was driving and Travis was the tour guide. I live in London and had a friend down for the weekend. Also took my 7 year old who absolutely loved it. Was a great experience, fun and informative. Would definitely recommend. Also as only 12 in a boat it's more special then a mass corporate chain large boat.
"Totally brilliant Rocket Ride!"
Booked with these guys on a beautiful day in between Christmas and New Year - the sun was shining though and we had an awesome trip down the Thames. Intend to go back this summer with some friends and this time go as far as we can!
---
What you'll see
London Eye
Houses of Parliament
Somerset House
London Bridge
Tate Modern
Shakespeare's Globe
The Gherkin
The Shard
HMS Belfast
Tower Bridge
Canary Wharf
Cleopatra's Needle
St Paul's Cathedral
The Tower of London
Date of travel
30 - 09 - 2023
---
Number of passengers
Please select
---
Let's go
Please select
Adult tickets (15+)
Child tickets
---
Let's go