The Ultimate Kid's Pirate Party (50 mins)
The Ultimate Kid's Pirate Party (50 mins)
10,343

reviews
What to expect: 
50 minute experience embarking and disembarking at The London Eye Pier
Guide dressed up as a pirate on board 
Pirate music 
35mph speeds 
Special onboard treat! 
AVAST ME HEARTIES! It's time for a piratey paddle down ye olde river Thames!
Grab your motley kid crew and bound down to the world famous London Eye on an incredible buccaneer blast for a celebration like no other!
Your 'Pirate Captain' (in full pirate gear!) will get you ready for your great river Thames voyage! Clamber aboard your very own PRIVATE red rocket speedboat and sail away on an adventure you'll never forget. Take to the choppy waters of London town 'ooo-ing' and 'arrr-ing' past the jewels of the incredible London skyline - Big Ben, the London Eye, St Paul's Cathedral, and the home of the greatest treasure of all - the crown jewels at the Tower of London!
Your 'Pirate Captain' will be entertaining this kids party all the way along the river with sea-shanties, pirate stories and seeing who has the best pirate growl! This is a boisterous blast perfect for children's birthdays, celebrations, or just a guaranteed good time! 
While you cruise through London, your pirate guide will dish out some extra-special treasure maps which will lead you to London's biggest landmarks. It is YOUR job to spot as many as you can - who knows what you'll discover at the end! 
Escape under Tower Bridge and it's time for your 'scowly' skipper to let rip! Hold on tight and let the wind take you away - blasting at 30 knots (35mph!) across the famous docklands of London. Prepare for the biggest chase of your life as you twist, turn and roll over the waves along to an epic  'pirate medley' of music - this is for only the bravest of pirates!
Once the wind is knocked out of your sails it's time to cruise back through central London. Avast ye! Make sure you're checking off those pirate maps because it's time for an onboard treat! Gather your buckos for those perfect London city photo opportunities as you spend time making a fuss of any pirates celebrating. 
Once your treasure hunt is complete, we'll head back to our pirate havens at the London Eye Pier and get you safely disembarked for your next adventures. 
PIRATE KIDS OF THE THAMES - WE NEED YOU!
Are you ready?
Recommended for ages 8 and below.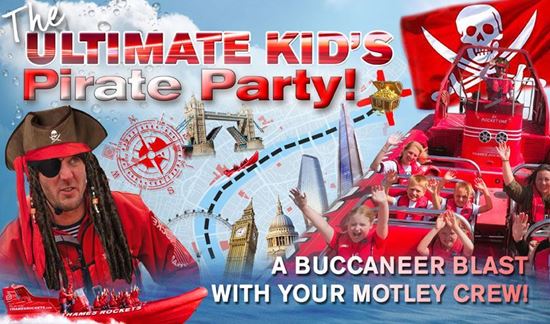 ---
What you'll see
London Eye
Houses of Parliament
Somerset House
London Bridge
Tate Modern
Shakespeare's Globe
The Gherkin
The Shard
HMS Belfast
Tower Bridge
Canary Wharf
Cleopatra's Needle
St Paul's Cathedral
The Tower of London