The Easter Eggs-pedition (50 mins)
Bounce down the Thames in this super speedy Easter hunt! Hunt out London's most iconic buildings with your very own treasure map. Find them all and win bounties of chocolate!
With Easter around the corner, we've been putting our heads together at Thames Rockets HQ hatching the perfect adventure to get you clucking with excitement.
Brand new for 2018 we bring you our Easter Eggs-pedition! The perfect way to celebrate the chocolatiest day of the year!
Hop on down to the London Eye Pier for 50 minutes of guilt-free Easter jollity. Take in the incredible sights from Big Ben to Tower Bridge and keep a keen eye out for the egg-shaped landmarks along the way. All this while our very own award-winning Easter bunnies fill you with funny facts!
Once under Tower Bridge, our experienced skippers put their paws to the flaw to give you an Easter bunny chase that you'll never forget! With a soundtrack of classic hits, you'll scream with delight as our twin-jet engines propel you down and round the rabbit hole of the Docklands! You'll twist, turn and cheer with delight as we show you what makes us the #1 speedboat tour company in London.
Then, on your way back through town it's time to dive into your specially crafted Easter goodie bags and explore all of what we have to offer. Open up your very own Easter fact file and search the banks of the Thames to find all of the hidden eggs in London. And, of course, it wouldn't be Easter without some chocolate to nibble on while you soak up the best city in the world!
Dust off your bunny ears, pack your Easter eggs and hop on down for the experience of a lifetime!
We're primed and ready to whisk you off your feet. The only question is, are you?
---
What you'll see
London Eye
Houses of Parliament
Somerset House
London Bridge
Tate Modern
Shakespeare's Globe
The Gherkin
The Shard
HMS Belfast
Tower Bridge
Canary Wharf
Cleopatra's Needle
St Paul's Cathedral
The Tower of London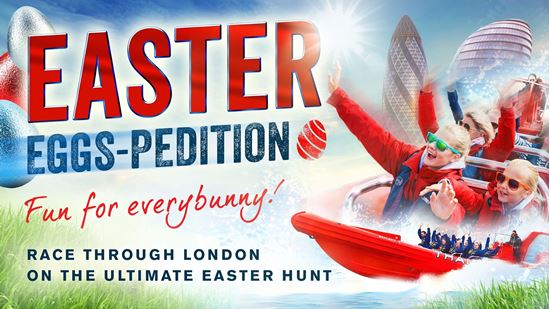 "Great experience."
Give it a go, great experience, The boat starts slow until Wapping then the action starts. only trouble is, its over too soon.
"Thames rocket ride"
It the best thrill if you love going at speed in a speedboat down the Thames it great if you are a adrenaline junkie like me and my friends I would recommend this trip to anyone
"Excellent"
Friendly crew. very exciting. it is very recommended. we are a family with 3 children and we really enjoyed ourselves.