Highest Fastest (45 mins + View from the Shard)
Highest Fastest (45 mins + View from the Shard)
10,343

reviews
Here at Thames Rockets we know a thing or two about style. Sonic speedboats, super skippers and the slickest sound medleys are all part of the trademark Thames Rockets London river cruise experience.
We are also never one to rest on our laurels, continually scouring for the most innovative, most memorable and most exciting places to visit in London for our valued passengers… and we think we've found the perfect package that towers above them all…
Introducing the Highest Fastest experience! Step aboard your custom built 'Rocket' from Bankside Pier near the iconic London Tower Bridge. You'll 'blast off' at 30 knots like a bullet for a whizzy whistle stop trip through London's east end. Coo at Canary Wharf, gawp at Greenwich and ogle the O2 as you fly to the eighth wonder of the world – the mighty Thames Barrier! A medley of memories accompanies your thrill ride through the greatest capital in the world, returning to Bankside Pier just in time to turn it up a notch!
You'll be ready and raring to see London from a whole new perspective – from the very pinnacle of the Shard tower. Towering at 1,016 feet the Shard views boasts the highest in Western Europe, giving you an unspoilt panorama of London town. You may even see us zooming by far below…
See London before London sees you, with the Highest Fastest experience. Only from Thames Rockets.
When making your booking you will choose the time for your speedboat experience. Once the booking is confirmed a member of the bookings team will call you to conclude The View From The Shard reservation.
*Please note it is the passengers responsibility to travel between each attraction, approximately a 10 minute walk.
*Please be advised this package is available to book on Friday, Saturday and Sunday.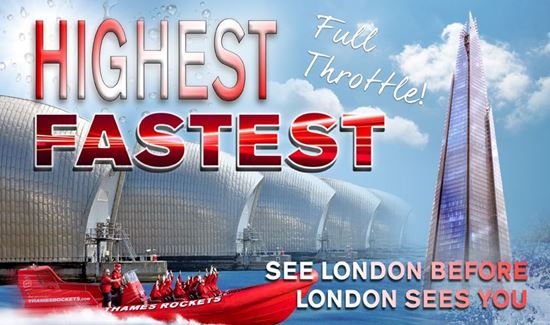 "Fourth time"
Been on the Thames Rockets a few times now so booked the package product to do the Shard as well. Great time as always. Thanks guys.
"Great speed, great views!"
We took the Shard and speedboat experience and everything made for a wonderful afternoon. The crew were really nice on the boat and it went so fast! Then up to the view where we spent an hour watching the world go by. Was my wife's birthday and she still talks about it. Brill time.
"Great Experience"
Great experience, went on a river tour with my brother last year and had a great time. The tour guides and boat captain were very informative and had great banter. Fab finish with the Shard (we got champagne too!) Would defo go again!
---
What you'll see
Tower Bridge
Canary Wharf
The O2
Greenwich
Thames Barrier
Date of travel
31 - 03 - 2023
---
Number of passengers
Please select
---
Let's go
Please select
Adult tickets (15+)
Child tickets
---
Let's go