Captain Kidd's Canary Wharf Voyage (50 mins)
10,343

reviews
Exclusively for families and also first timers alike. Thames Rockets 'Captain Kidd's Canary Wharf Voyage' is the speed boat London experience that will ease you into the life of the high speedy seas - the ultimate London day out!
This is a private experience so how fast you go is up to you! Fancy slowing it down a little? No problem. Ready to ramp up the revs? Just let your crew know! Their goal is to ensure everyone on board has a comfortable and most importantly - MEMORABLE trip!
Perfect for birthdays, celebrations or simply quality family time, you can expect all of the thrills that have propelled Thames Rockets to the #1 spot in its category for over 10 years on TripAdvisor.
Let the grandparents show the kids exactly how to party on this London river cruise – speed boat style! Find your sea legs as you don our top quality sailing coats at our exclusive boarding gate at the London Eye Pier (right opposite Shrek Adventure London!). Then step on-board and navigate your way to the most magnificent sights the capital has to offer. All from your very own vantage point on a 12 seated RIB!
There really is no better way for the little ones to experience the sights of London. Combine this with our friendly, funny guides helping you on your quest, and the kids will soon be outwitting Dad with their tales of the famous river Thames passing the Tate Museum, OXO Tower and HMS Belfast.
Whoop and cheer along as we rocket you and your loved ones on a journey like no other. With classic feel-good tunes playing and selfies galore, you'll make memories that will last a lifetime. We'll ease you into the most thrilling river Thames cruise. There'll be giggles and gasps that will bring a smile to both Mum and Dad alike.
For both the young and the young at heart. You can give the whole family a trip on the #1 provider of speedboat tours in the UK. Thames Rockets undoubtedly offer you the London RIB ride for our newest of new recruits with the Captain Kidd's Canary Wharf Voyage!
We're ready. Are you?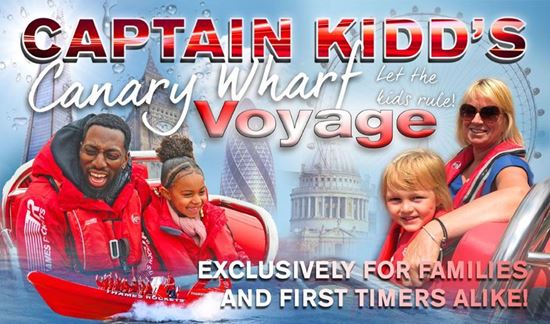 ---
What you'll see
London Eye
Houses of Parliament
Somerset House
London Bridge
Tate Modern
Shakespeare's Globe
The Gherkin
The Shard
HMS Belfast
Tower Bridge
Canary Wharf
Cleopatra's Needle
St Paul's Cathedral
The Tower of London