Things to do this Easter in London
Published by Mike Cole 997 days ago
With Easter on the horizon and lockdown restrictions carefully being eased we are all excited for a spring to look forward to.
As the days get that little bit longer and the weather gets that little bit warmer, you may well be looking for the first activities and days out you will be able to enjoy, and we hope that our red London speedboats are top of that list!
From Monday 12th April we will restart those engines and welcome back passengers to feel the freedom zooming out of lockdown at 30 knots, and we can't wait! We are busy behind the scenes scrubbing the decks, cleaning the hulls and polishing the chrome, the bookings team are already taking calls, and the guides and skippers - well - they are ready and raring to get out there doing what they do best!
Booking is available online now or you can call us on 020 7928 8933 - we would be thrilled to assist you whatever the occasion whether it is simply a day out with your loved one or a special celebration - once our full service resumes in April the choice is yours from our classic Ultimate London Adventure to our daredevil all speed Break the Barrier.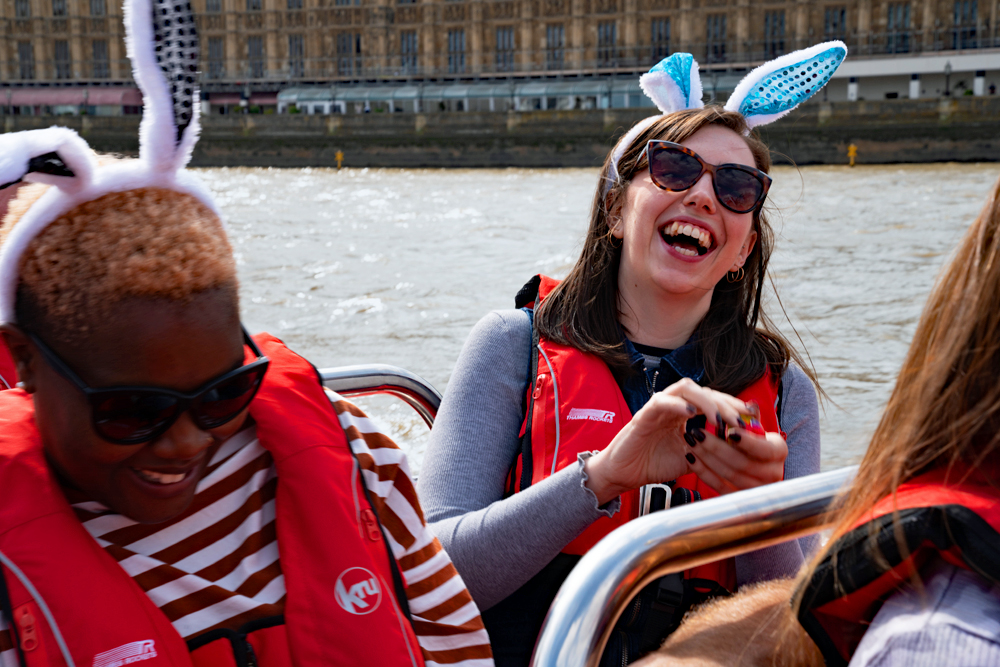 SPECIAL PRIVATE PREVIEW SAILINGS - EASTER WEEKEND (Friday 2nd - Monday 5th April)
Do you have a bubble that's just bursting to get out?

We have a limited number of private sailings available over Easter weekend for an exclusive sneak peek before our permanent sailings return on Monday 12th April.

So if you are one household on the hunt for an Easter treat, two households hopping mad to see each other or a group of six desperate for a good old rabbit we've got the perfect outdoor eggsperience ready for you.
Be the first to see London 'spring' into life as the city emerges from hibernation.

Feel the freedom and make Easter that little bit sweeter with an exclusive speedboat bounce along the iconic river Thames.

As recommended this week on 'BBC News Lockdown Bucket List'!
Give us a call on 020 7928 8933 or email bookings@thamesrockets.com and we'll do the rest!
Like this blog?
You'll love these trips!