Fun Things To Do in London This Father's Day 2023
Published by Maisie Walker 109 days ago
Father's Day 2023 is just around the corner, and what better way to celebrate than by treating your dad to an unforgettable experience on the world famous river Thames? Forget the socks and chocolate or the '#1 Dad' mug, switch it up and make this Father's Day truly remarkable with an exhilarating adventure aboard a Thames Rockets speedboat in London! If you're stuck for Father's Day gift ideas, carry on reading and let us guide you through an action-packed day filled with adventure, stunning views and memorable moments that'll be sure to make dad feel like a superhero!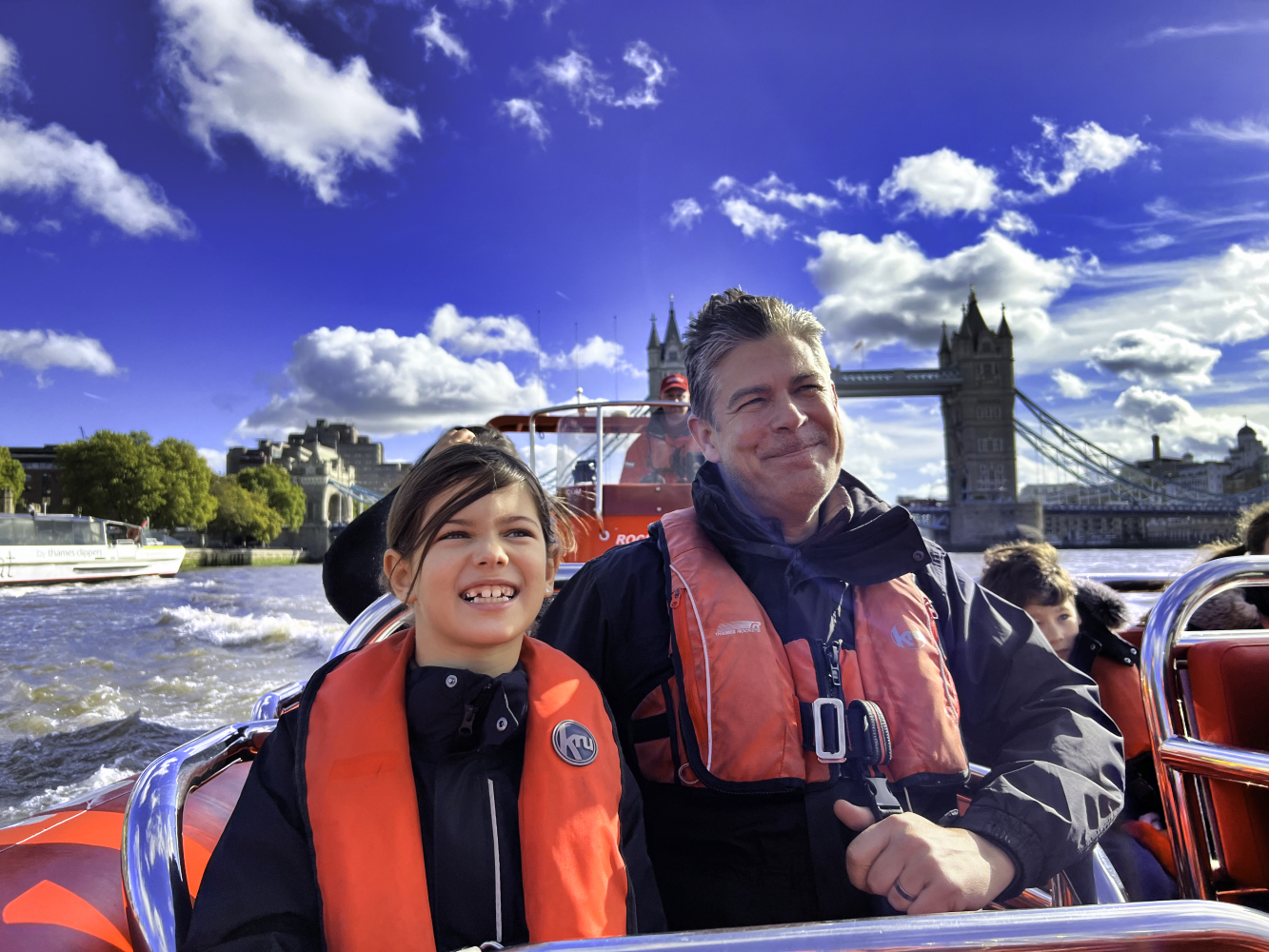 When is Father's Day 2023? 
Father's Day 2023 falls on Sunday 18th June 2023 - only two weeks left to plan the perfect Father's Day gift! 
Find out what the #1 Father's Day gift sounds like: 
1. Unleashing The Thrill
When it comes to celebrating Father's Day, London is certainly not short of ideas! However, if you want to truly surprise your dad with an adrenaline-pumping experience, a Thames Rockets speedboat is the way to go! Embark on an exhilarating London journey whilst our hilarious and knowledgeable guides keep you entertained the whole way. If you think you know London… think again! 
In the comfort of our 12 seater, open top speedboat, you'll get to experience the most unique perspective of London's breathtaking landmarks, all whilst enjoying some quality family time. From the mighty London Eye to the majestic Tower Bridge, your dad will have a front-row seat to the city's most famous sights (don't forget to take photos, these are some of the best backdrops in the world!) 
2. Flying Across The World Famous River Thames! 
Sit back and hold on tight as your very own professional skipper opens the throttle and ROCKETS you across the river Thames. Feel the wind in your hair as you race past Canary Wharf at an incredible 35mph! Sing your heart out as you listen to some of dad's favourite, classic tracks through our cutting-edge on board sound system - all whilst twisting, turning and riding the waves in the summer sun. 
3. An Unforgettable Bonding Experience 
Father's Day is all about spending quality time with your dad, and what better way to strengthen your bond than by embarking on a thrilling adventure together? Laughter and excitement will fill the air as we blast you along the river Thames - creating core memories that will be cherished for years to come. Thames Rockets isn't just a speedboat ride, it is an experience that you'll want to do again and again and again! 
Thames Rockets takes the speedboat experience to a whole new level with adrenaline-fuelled fun! Hold on tight as your skilled skipper twists and turns the boat, creating waves of excitement that will leave you breathless. Feel the rush as the speedboat leaps into the air, defying gravity for a moment that feels like a lifetime. This is not just a London boat trip; it's a heart pounding adventure that will make Father's Day truly unforgettable!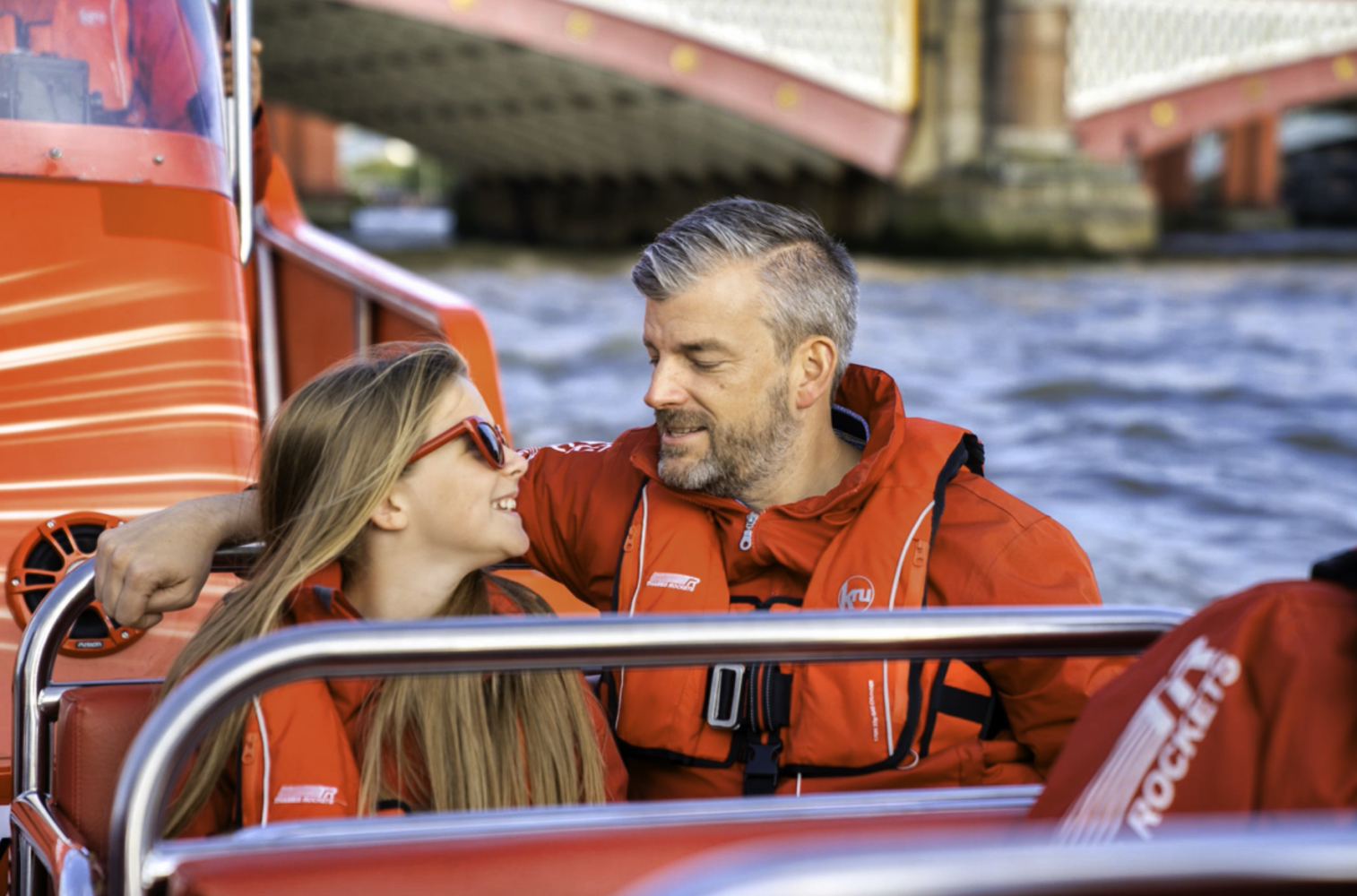 4. Safety First 
While the thrill of speed is exhilarating, safety is always our top priority here at Thames Rockets. We priories the well-being of our passengers, ensuring all safety measures are strictly followed, Our experience crew will provide life jackets and deliver a safety briefing before you set off on your adventure, guaranteeing a secure and enjoyable ride for everyone! 
5. Fun for all ages
Father's Day isn't just limited to celebrating biological Fathers alone. Whether you're honouring Dad, stepdad, grandpa or any father figure in your life, a Thames Rockets speedboat ride is an ideal choice for all ages! Nearly all of our experiences do not have an age restriction therefore anyone from the grandpa to the grandkids can experience London's #1 attraction. Bring the whole family together this Father's Day and create lasting memories that will be treasured by everyone. 
What experiences are subject to age? 
Our Thames Lates experience is 18+ due to there being alcohol on board. 
We recommend our Break the Barrier experience for those who are ages 10+. This is due to an extended speed section and minimal guiding. 
This Father's Day, break away from the norm and surprise your dad with an adventure he'll never forget. Our Thames Rockets speedboat experience in London offers an unparalleled thrill, stunning views of iconic landmarks, and a chance to feel like BOND while you bond with the family! Embrace the spirit of adventure, create lasting memories, and make dad feel like a true superhero on this special day. Don't settle for the ordinary, celebrate Father's Day with an extraordinary adventure on the world famous river Thames!  
What experience is best for Father's Day? 
 So, forget the chocolate, socks and chilli plants, it's time to treat dad to something that'll be remembered forever - the very best red rocket London speedboats, guaranteed to put a smile on dad this Father's Day.
Like this blog?
You'll love these trips!