The name's Rockets, Thames Rockets
Published by Maisie Walker 811 days ago
James Bond is BACK with 'No Time To Die' which means our much-anticipated Licence to Thrill experience is ready and waiting for YOU!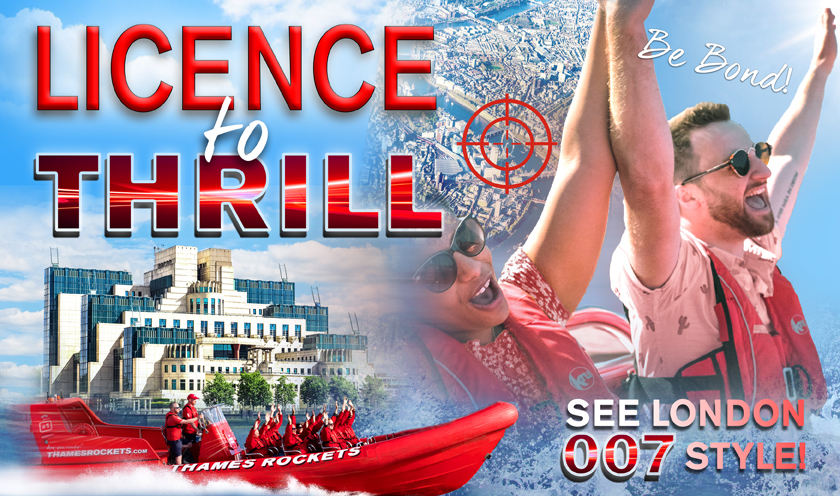 Always wanted the life of a 007 spy? Well now you can - and here's how: 
Prepare to be transformed into the undercover agent you have always dreamed of being. SUIT up, GLAM up and throw on your life jacket, as you get ready to see London in all its glory. 
Get strapped in and ready for action as our red rocket speedboats race you through the heart of the capital - just like in the movies! Our hi-tech, cutting-edge boats will take you to all the famous landmarks with the thrill firmly at the forefront - move out the way James Bond, there's a new secret spy in town! 
No serious faces aboard this Thames cruise as your hilarious Guide will provide you with first-class espionage entertainment while keeping you up to speed on all things 007. 

HOLD ON TIGHT and brace yourself as your highly-experienced Skipper takes you and your fellow spies for the ride of your life! Twist and turn through London and speed along the Thames like a true undercover agent. At 35mph and 880hp, our speedboats definitely don't mess around! 
You don't think we would celebrate James Bond without the music, do you?
FLY through the years with a bespoke 007 soundtrack and celebrate all 26 James Bond films with your friends, family and colleagues - whilst bringing out your true, inner spy of course.
Are you ready for an action-packed adventure with Thames Rockets?  
The release date for 'No Time to Die' is the 30th of September, so why not come aboard our red Thames speedboats and BE Bond before you SEE Bond!


Now there's an experience TO DIE FOR...