Things to do on Valentine's Day 2023 in London
Published by Maisie Walker 321 days ago
Valentine's Day is fast approaching and now's the time that Google floods with millions of people trying to find Valentine's Day ideas. But FEAR NOT! Thames Rockets are here to bring you the very best Valentine's Day gift EVER! 
Whether it's the first date or the 50th date, Thames Rockets are revved up and ready to help you discover London's romantic side from the world famous river Thames. 
Tuesday 14th February 2023
What can I do in London on Valentine's Day?
The Thames Rockets Ultimate Speed Date! 
Are you doing any special deals? 
YES! A couples ticket is only £79!  
Looking for the perfect Valentine's gift? 
Find out more about our Ultimate Speed Date below: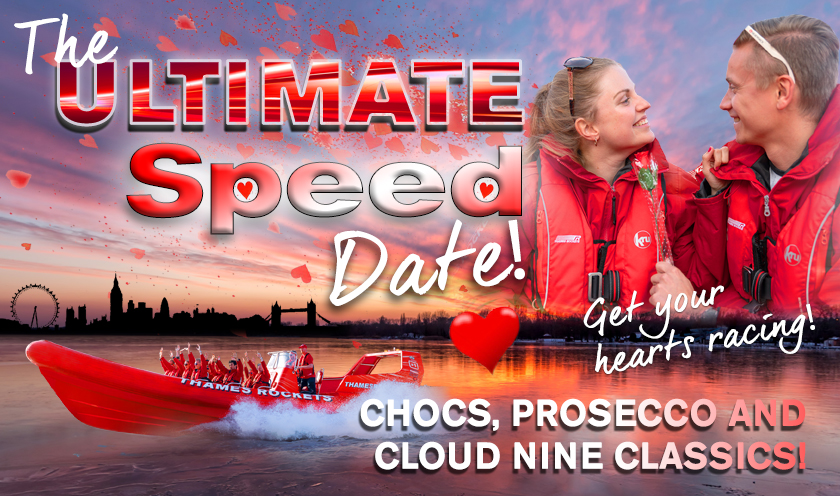 We don't mind admitting it - we get a bit soft at this time of year. Especially because we are based in one of the most romantic cities in the WORLD! 
Of course you could say I love you with flowers, or you could say it with chocolates…
…however, we'd rather say it with a 35mph speedboat special for all you dare-devil lovebirds out there! 
Grab your nearest and dearest and whisk them off their feet to the London Eye Pier for 50 minutes of adventure on our super sexy red fleet of speedboats! Fly across the Thames and feel the butterflies as we launch you into a whirlwind date like no other.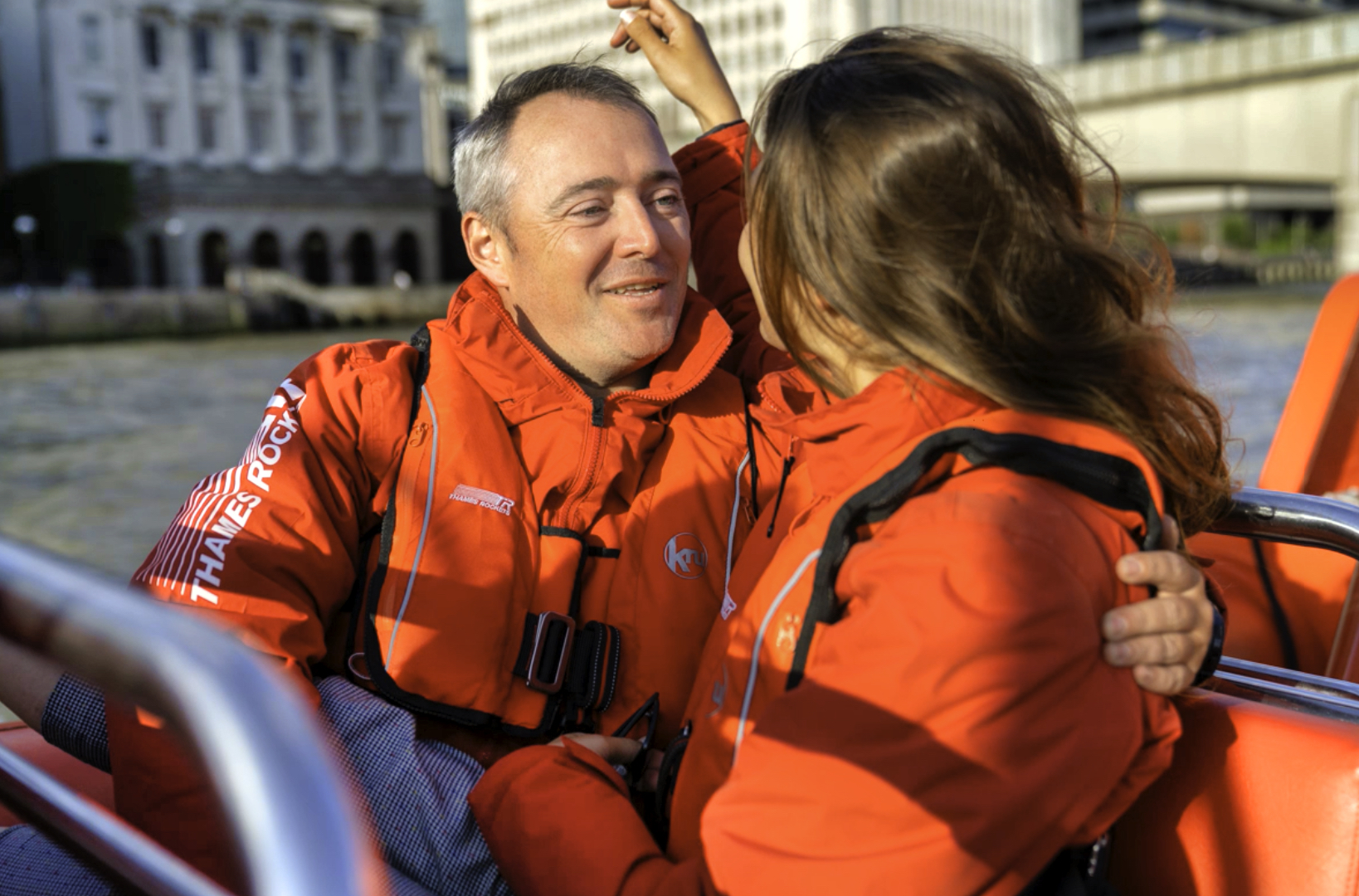 Forget roses and dinner. Our special Valentine's Day music medley is all you need to set the mood as you waltz and wail down London's famous river Thames. Snuggle up to your date (or mate!) as you marvel at London's most romantic city sights, from Big Ben to Shakespeare's Globe, Westminster Abbey to St Paul's Cathedral, stealing a kiss under the gorgeous Tower Bridge before we 'dim the lights' for the main event. 
Hold on tight and feel the rush as we propel you at 35mph across the famous docklands of London. Love is in the air as we twist, turn and roll you past Canary Wharf whilst you sing along to a classic playlist full of hits to get the heart racing! 
Once back at Tower Bridge, it's time to settle in for a relaxing cruise back to the world famous London Eye - looking up in awe as you pass all of the beautiful sights this city has to offer. Take in the city as you tuck into a special little bag of Valentine's treats and enjoy a delicious can of Didsbury Gin - the perfect end to the perfect date.
A full 50 minutes of romantic vibes, beautiful sights, heart racing hits and special treats on board…
This is a speed date to remember! 
So grab your loved ones and surprise them this Valentines with something a little different. Oh and don't forget, we're a hotspot for proposals too!
'The Ultimate Speed Date' - ONE OFF EVENT ON MONDAY 13TH AND TUESDAY 14TH FEBRUARY 2023. 
Fancy joining us for our Ultimate Speed Date?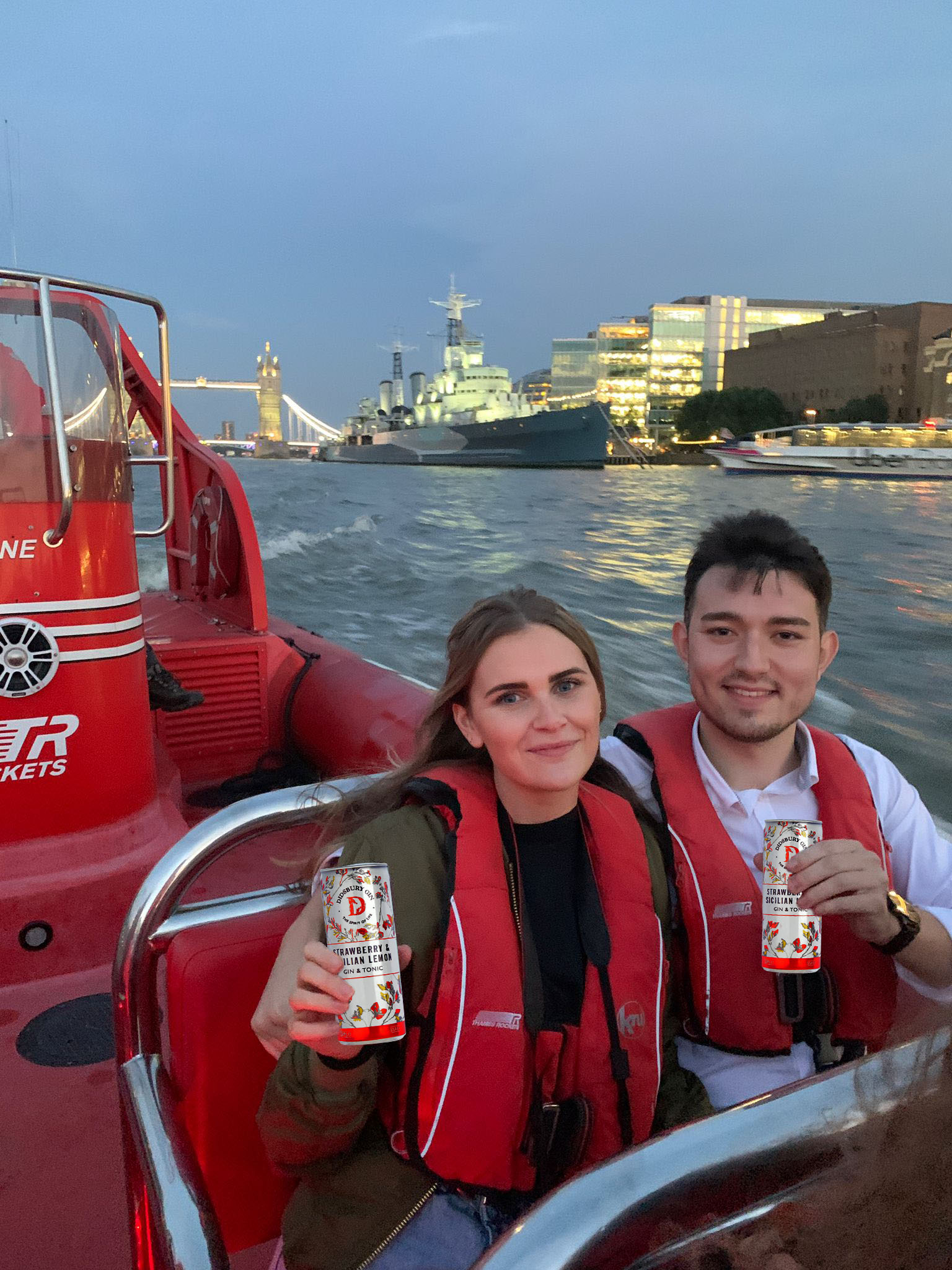 If you're busy on Valentine's Day then not a problem - we can help! 
Looking for the perfect Valentine's gifts for him or the perfect Valentine's gifts for her?
Forget the flowers and chocolate, why not treat your loved one to a super speedy red rocket speedboat voucher! We have plenty of experiences to choose from to make this Valentine's Day the BEST ONE YET. 
Check out the vouchers we have available here.
Like this blog?
You'll love these trips!