Thames Rockets: Top 20 Experience in Northern Europe!
Published by Maisie Walker 206 days ago
May 2023 has come and we are proud to announce that our London sightseeing speedboat experience has been named as one of the TOP 20 EXPERIENCES IN NORTHERN EUROPE by Viator! 
After receiving the Travellers Choice 'Best of the Best' Award and being crowned 8th best tourist attraction in the world by TripAdvisor, we didn't think it could get any better…
Thames Rockets now sits proud next to some of Northern Europe's most incredible experiences; from historic London pubs, to Golden Circle tours in Iceland, it's safe to say the we have some pretty amazing competition.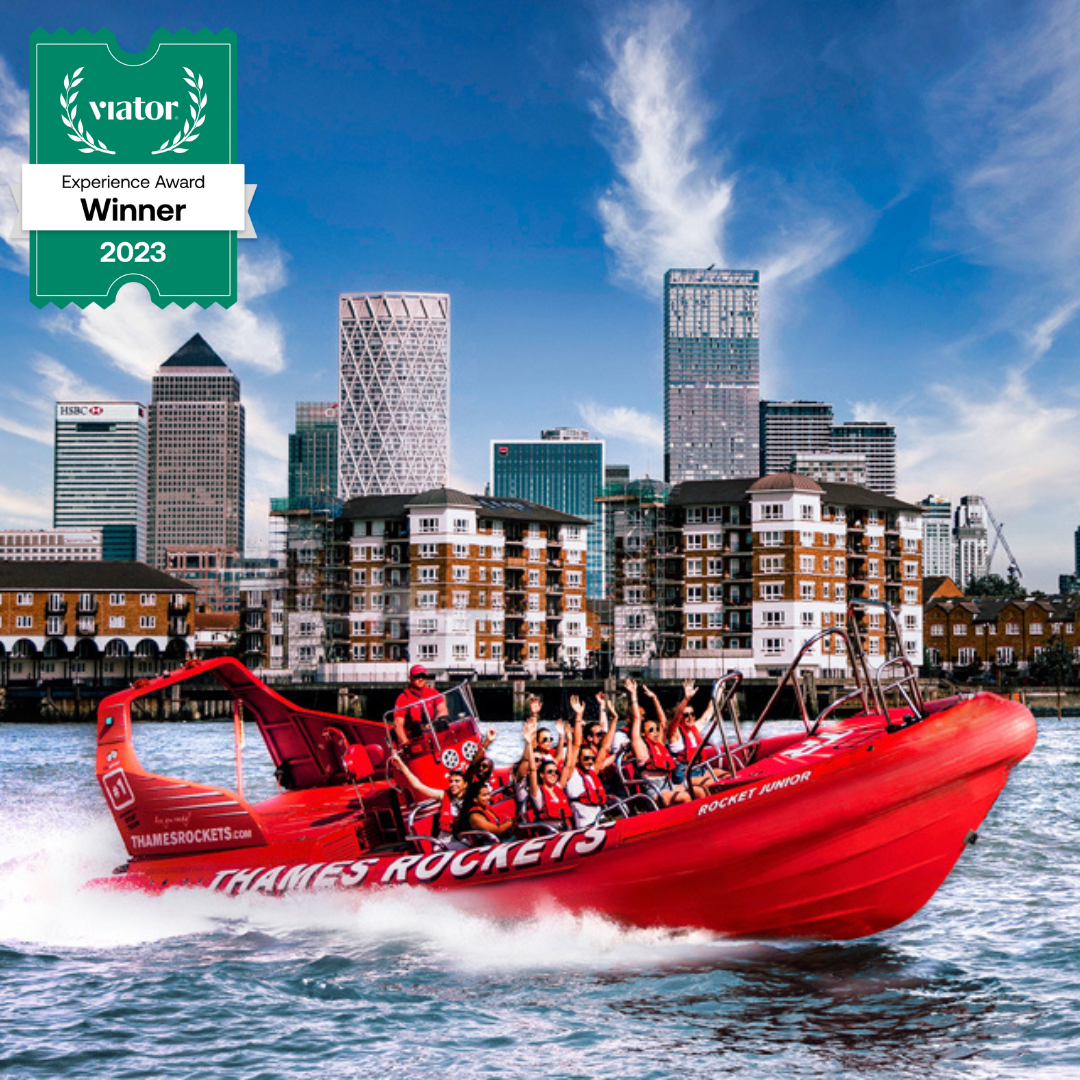 What are the Viator Experience Awards?
The Viator Experience Awards ranks the world's top experiences based on average review ratings, share of bookings with a review, and number of bookings on Viator over a 12-month period from traveler's around the world - setting the bar for the best things to do and see. 
Not only are we immensely proud of all our Thames Rockets staff, we are also extremely thankful to all of the passengers that booked with us last year - without YOU we would not have received this award! 
Want to find out more about the Viator Experience Awards? Click here to find out more. 
 

 

 

View this post on Instagram
Where did it all begin?
Thames Rockets opened its doors (or shall we say, speedboats!) way back in 2006 with just one member of staff and one speedboat. It all came from one man and one idea which turned out to be one of the best ideas EVER! 
Fast forward to 2023, you'll now see Thames Rockets owning the river Thames with 5 beautiful red rockets in our fleet, paired with an incredible team who make all the magic happen! 
Ever since we began in 2006, our mission has always been to create a safe, exciting experience that will top anything you have ever done before - and we have done exactly that. 
BUT, we simply could not have done it without your help, support and kindness over the last 17 years. On TripAdvisor alone you have helped us reach over 14,000 reviews and we love nothing more than to scroll through and take a look at your lovely photos as well as read your 5 star reviews. 
 

 

 

View this post on Instagram
Check out some of our amazing reviews: 
Exhilarating, Fabulous speed boat experience! 
"What can I say! Second time on the rocket with family! We had the lovely Stacey both times and she honestly made the experience so much fun! So funny and inclusive, she had us in stitches! We absolutely love this, so exhilarating and so much fun, we were laughing all the way through singing at the top of our lungs! Definitely blew the cobwebs away! Would highly recommend! See you in the summer!" 
A must do experience !!
"Fabulous experience from start to finish! Easy to book, organised on arrival. Geoffrey was fantastic, warm and welcoming and very funny. Mark was a first class skipper. We did the 80 min Thames Barrier tour. Perfect mix of tour guide experience with the cheeky high speed thrills thrown in. Highly recommended"
Sight seeing with a thrill
"WOW!! This was a great experience. All the sights from a very different view point after the amazing thrill of a fast boat ride on the Thames. By fast, I mean hold on tight! Jumps, swerves, screams and laughs. Think rollercoaster on the water. Absolutely brilliant. Made all the more special by the very informative guide Ed, and his crazy skipper Brad! Thanks guys!"
Great Experience
As someone who has visited London a number of times, I have never been interested in the 'touristy' things to do, however we had an American friend with us so thought we would try the speedboat tour...
I am so glad we did, was probably one of the best things I have ever done in London!! From the minute we arrived at the boarding point and then on the boat the customer service was great. Big shout out to Geoff and Mark, Geoff kept us all entertained with his humour and we felt safe with Mark at the helm. Highly recommend. Thanks Thames Rockets for an unforgettable experience!
Want to read some more reviews? Click here to head to our TripAdvisor page now!
As you can see from our reviews, Thames Rockets pride ourselves in being the very best for anyone and everyone who wants a London day out - perfect for London tourists and London locals! We are one of the very best unique things to do in London filled with famous sights, with all the added thrills and spills of racing on our industry leading fleet of Thames Rockets! 
What sets us apart from the rest? 
Ever since the very beginning, Thames Rockets have always strived to ensure our guided tours are unique, funny, witty and nothing like you've ever experience before. That's why our guides are all professionally trained actors and comedians who love nothing more than to make you laugh and give you an unforgettable experience - You may have even seen some of our guides on telly! You'll get to experience all that London has to offer and find out some London facts we know you haven't heard before!
This is more than just a speedboat experience, it is a top London attraction full of iconic sights, super fast speeds and most importantly, a personal touch that'll leave you wanting to come again and again. 
After 17 amazing years on the river and plenty more to come, Thames Rockets are here to give you a #1 London sightseeing experience that you've certainly never experienced before - perfect for London locals and London tourists. 
Above all, your safety is always a priority, with your enjoyment a very close second of course! 
Our London river cruise is guaranteed to change the way you see the capital forever. 
If you're looking for the best things to do in London, you've found it! 
Are you ready to experience one of the top 20 tourist attractions in Northern Europe? 
Like this blog?
You'll love these trips!