Thames Rockets Birthday Celebrations!
Published by Mike Cole 1319 days ago
On Wednesday 26th April 2006, a little red boat departed from the London Eye Pier with twelve eager passengers full of excitement and anticipation.
Today you wouldn't even blink at the sight, but this particular voyage truly was a first. Never before had the river Thames seen commercial powerboat trips in service, and it was the start of something very special.
To say it changed the way to see London from the river is an understatement. Combining witty, topical London tour guiding from hand picked comics, the freedom of seeing London close up without the crowds, the feeling of floating through the huge capital on a small craft, and finally a high speed ride worthy of the best of the world's rollercoasters, the winning formula was complete and Thames Rockets was born.
As the first operator to create this brand of speedboat sightseeing, this week on our social media platforms we've been bringing you a series of 'firsts'. Here we collate them all together as we look back over what has been a truly wonderful 14 years. 
1: First Rock Star
We've transported many a famous face to the O2 over the years, but our first was none other than king of rock himself Jon Bon Jovi. We loved taking him and his team direct to the O2 arena each night for his 'The Circle Tour'. The tour was ranked #1 in the 'Top 20 Concert Tours' for 2010. Here he is on board on his way to rock out the O2 arena!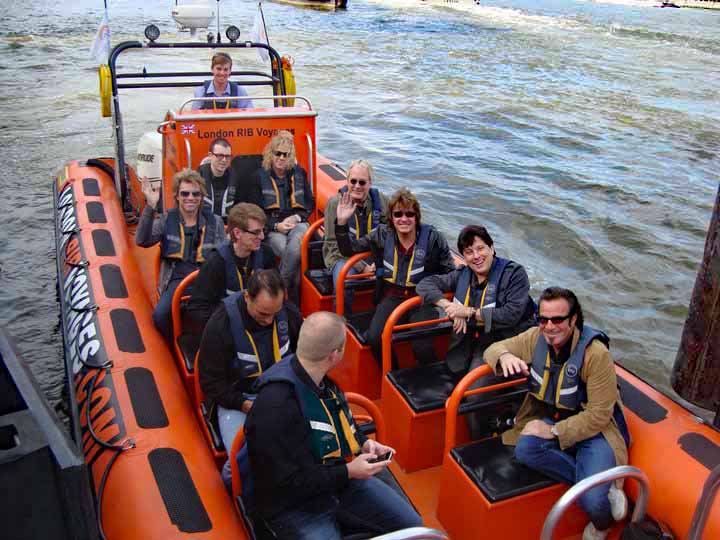 2: First Review
When TripAdvisor was founded in 2000 it changed the way customers planned their holidays, trips and outings. Reviewed by the people for the people it quickly became, and remains, the most trusted source of feedback for restaurants, attractions and destinations across the world.
Our first review was posted in October 2009 and laid the groundwork for the thousands that were to follow, ultimately giving Thames Rockets its unchallenged #1 status in late 2010.

3: First Celeb
In between taking rock stars and comedians to the O2, we've also had our fair share of celebrities on board our experiences.
Here is the 'absolutely fabulous' Joanna Lumley who having heard about the 'new and exciting thing on the Thames' brought her whole family to see what all the fuss was about. 
Founder Charlie Matheson was ready to welcome her for her blast down the Thames, Rocket style!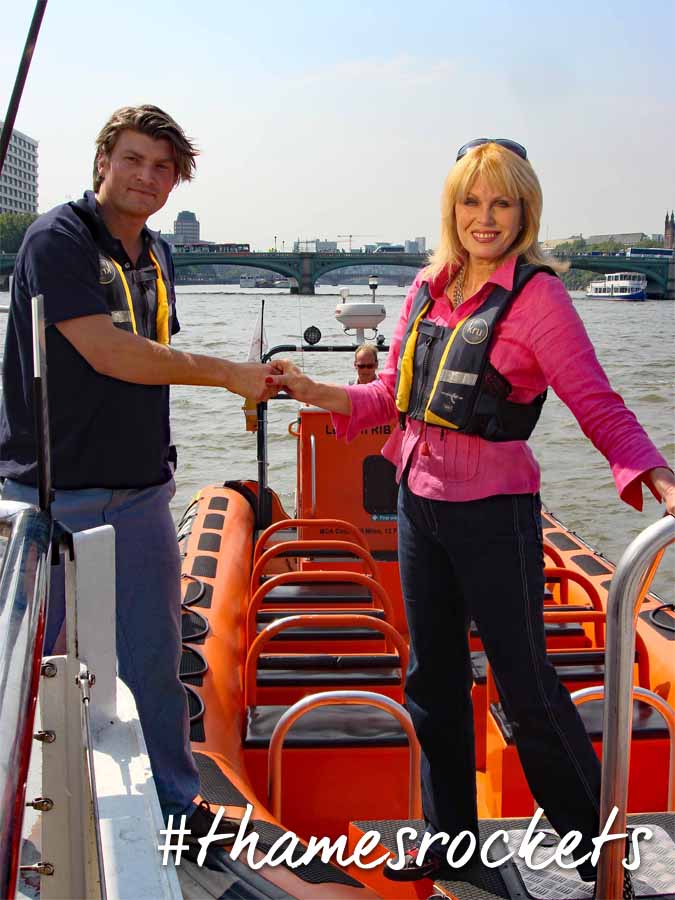 4: First 'Rocket' Boat
As the initial years passed it soon became clear there was huge and growing demand for our type of experience. There was only one thing for it… Bigger, better, faster, redder boats!
The next generation of Thames speedboat arrived in early 2014 and soon made its mark. With a custom built hull, twin inboard engines, a weatherproof sound system and all the mod cons we could throw at it, Rocket One became the new benchmark on London's famous river.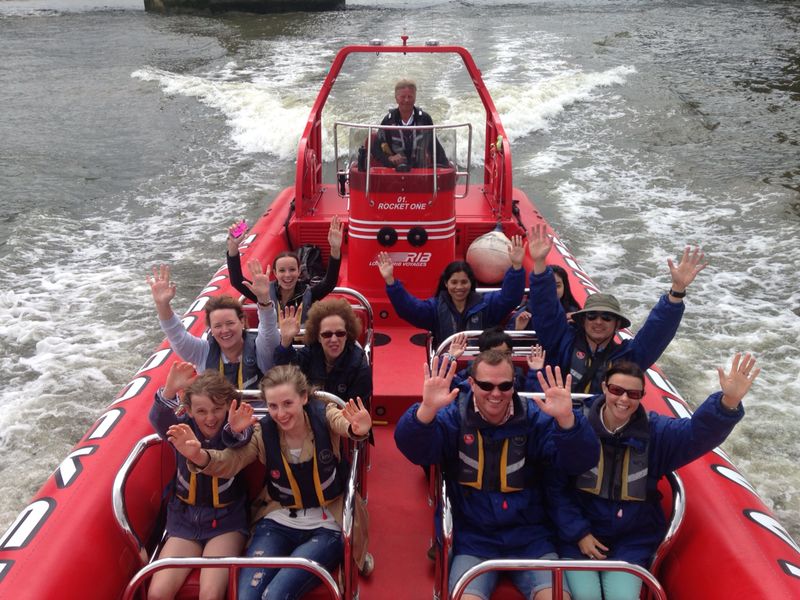 5: First Certificate of Excellence
Last but by no means least in our (non exhaustive!) list of firsts is our first Certificate of Excellence. We are truly humbled to be recognised not just by TripAdvisor, but ultimately by all our passengers, when it comes to our level of service and commitment to everyone's safety and enjoyment during their time with us.
Here is founder Charlie Matheson collecting our very first award at TripAdvisor HQ with non other than Ollie the Owl! A proud feather in our cap and one we have graciously received every year since.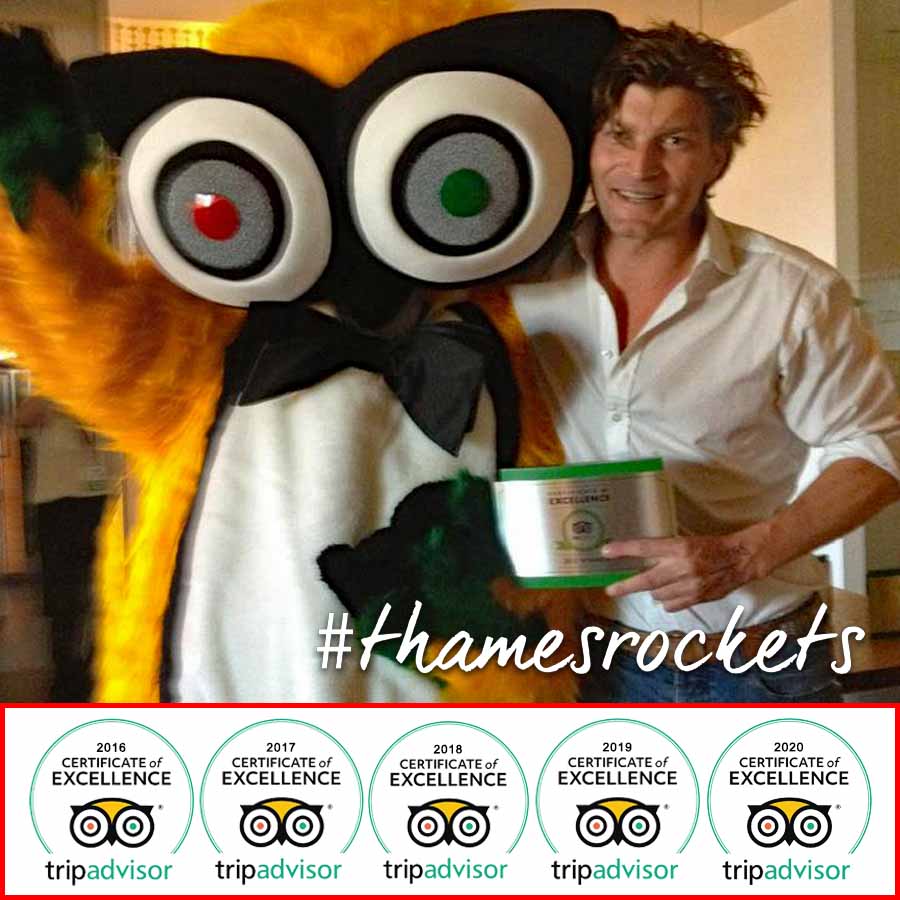 So there we have it! Just five of the many firsts we have been privileged to witness over the years. Thank you for all the birthday wishes, and the good wishes at this time. 
We are ready, revved up and raring to go again for the next 14 years and can't wait for the many more 'firsts' to come.
Like this blog?
You'll love these trips!