Thames Rockets and Ember Trio celebrate the return of BOND!
Published by Maisie Walker 610 days ago
Today is the day we have all been waiting for…BOND IS BACK, not just on the big screens, but on our red rocket speedboats - and what better way to kick off the 007 celebrations than to have Ember Trio perform the iconic Bond theme live on board! 
We've been raving about all things Bond ever since relaunching our Licence to Thrill experience on Monday. Now the two-year wait for 'No Time to Die' is finally over, we needed to top EVERYTHING we have ever done before. So we invited Britains Got Talent semi-fianlists Ember Trio to take some time out from their jet-set schedules to become undercover agents (in full Bond attire) - this would be a moment to remember.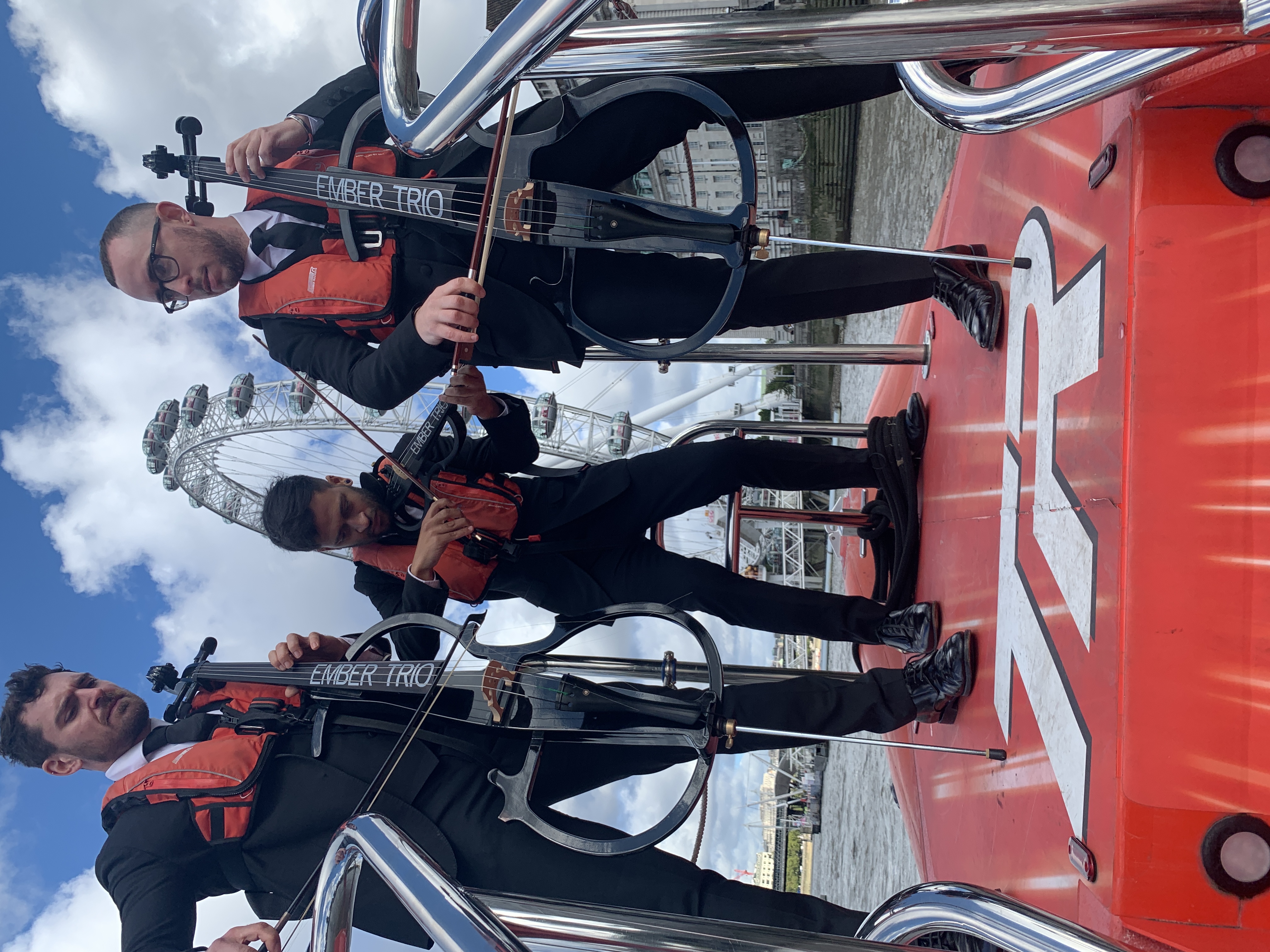 Ember Trio are a new-age, contemporary string trio from Manchester and London who smashed through Britains Got Talent, all the way to the semi-finals. Since starting their careers in 2016, they have flown to the top with 20 million views on their social media platforms - and who better to pair up with than the most famous speedboats on the Thames?
Once the lads were suited and booted, we jumped on our Thames speedboat and whizzed down to MI5 & MI6 to get some real undercover secret spy shots. The contemporary string trio pulled out their deconstructed violin and cellos and blasted the Bond theme tune across the river.
As we sped away from the undercover agent architecture, our Skipper Chris flew the band along the Thames, catching the attention of passers-by as they put on a show under the bridges. 
After taking the band for a spin and filming some fantastic footage, we dropped them at the London Eye so they could transform back from undercover agents to top-class musicians. 
Fancy following in Ember Trio's footsteps? Don't miss out on the chance to become a real Bond on board. 
Licence to Thrill is available for a limited time only - the perfect pairing to the big screen experience.