Best Team Building Activity Day In London!
Published by Maisie Walker 113 days ago
Searching for unique things to do in London with your team? Or perhaps you've been put in charge of the next office away day and you have no idea where to start….
There are so many different things to do in London and sometimes it can get a little overwhelming, that's why we're here to save the day and give you not only a cracking work day out, but to also bring you the best team building activities in London. 
Grab your team and head down to the London Eye pier for 50 minutes of London sights, endless smiles and super 35mph speeds with Thames Rockets. Then, release your competitive side as you experience a modern, tech driven twist on a classic game of darts at Oche. 
Team building activities London: 
This is Rocket on board - London's top activity day! Perfect for team building, schmoozing clients, or even just treating your team/colleagues to a bit of fun.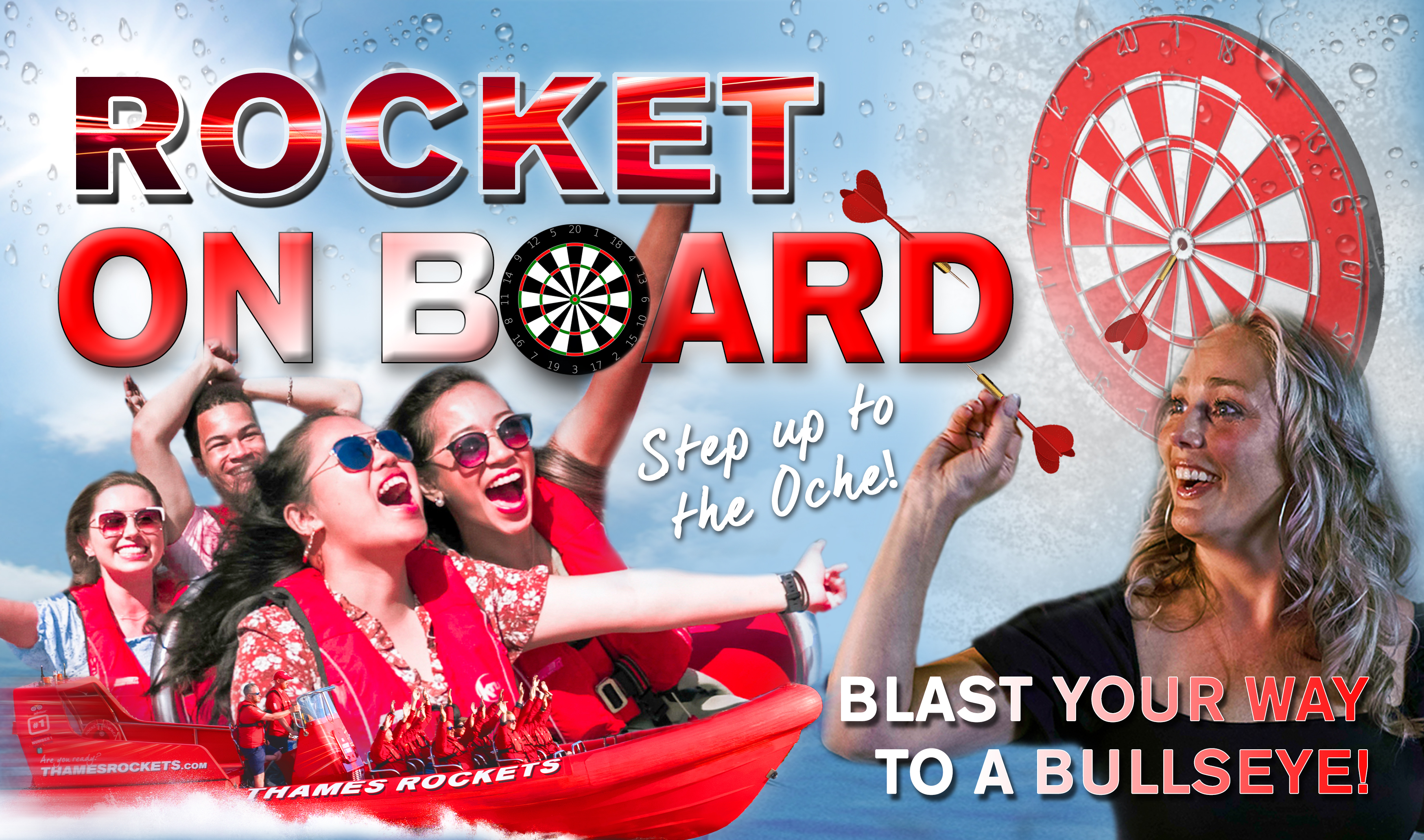 What's included? 
You and your team will begin your day at the London Eye Pier. Get prepared to hop on board your very own exclusive, 12 seater red rocket speedboat. Cruise through the world famous city of London and marvel at all of the beautiful landmarks along the way. From Big Ben, to St Pauls Cathedral, to London Tower Bridge - the perfect place to get your all important team selfie for LinkedIn! 
Laugh along the way with your very own comedian guide 
Once you've enjoyed a calm cruise along the river Thames and through Tower Bridge, it's time to crank it ip a notch!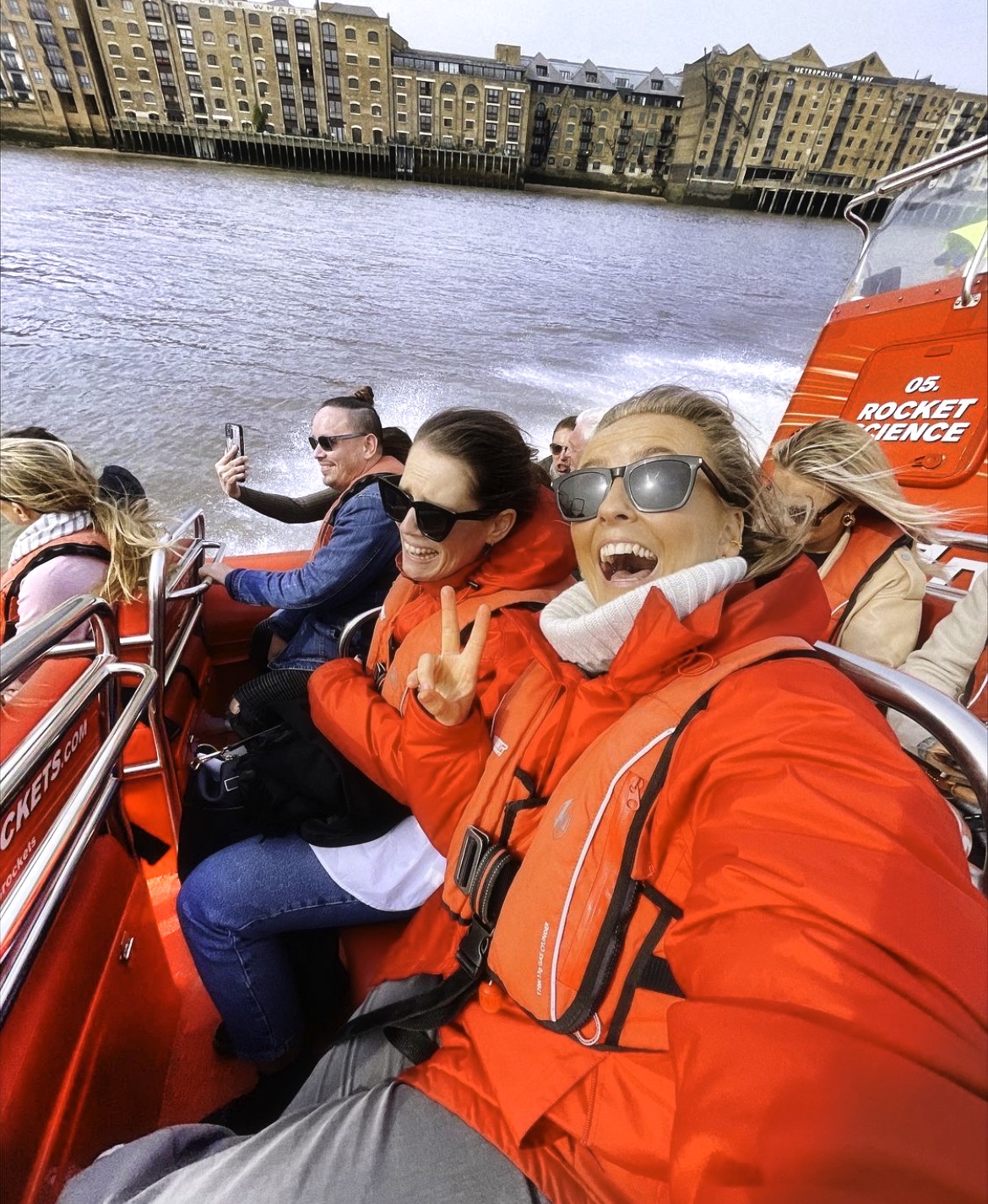 Get ready to mix business with pleasure as your skipper opens the throttle and blasts you through the docklands at a hair-raising 35mph! Hear and feel the 880hp engines rev up rocket style as you BLAST your way past Canary Wharf's incredible skyscrapers (and make sure to feel smug as you spot people working while you're on a London speedboat of course!) 
Not only will you be flying through London with the wind in your hair, you'll also be singing your heart out to a mash up of timeless classic hits - guaranteed to blast team building to new heights. 
When the super speeds come to an end, we'll dart you back to the London Eye - giving you another opportunity to get some team selfies (who doesn't love the windswept look?)
Once back at the London Eye, it's time to prepare for your next London adventure…
Step inside Oche Strand and experience a classic game of darts with a terrific tech twist!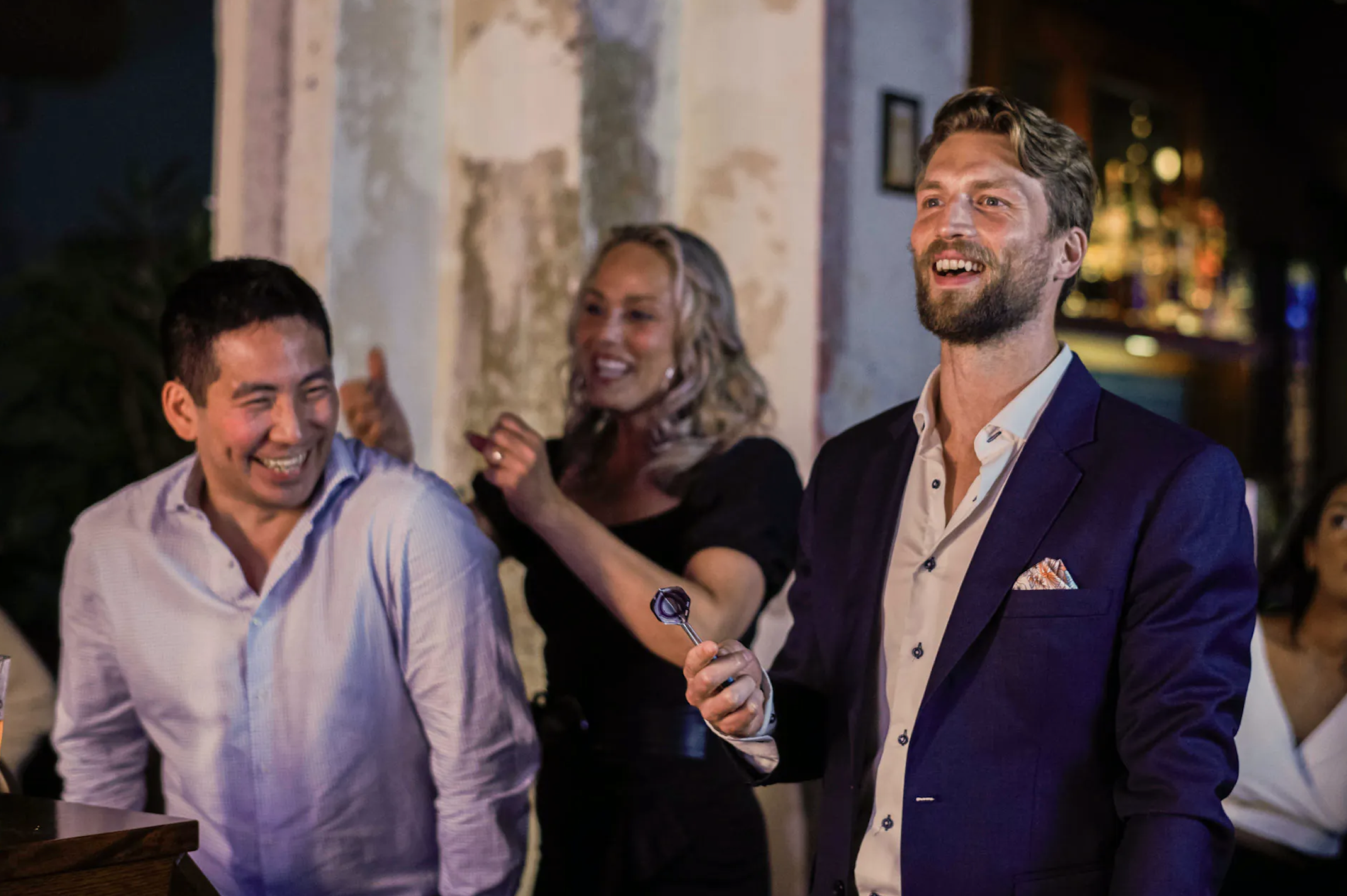 Are you ready to release your competitive side? Well now it's time! Head over to your semi-private Oche area and get ready for 2 whole hours of game time. 
Itching to inspire the team with something new and exciting? Loosen up and strengthen relations as you compete against your colleagues in one of Oche's incredible games - with up to 5 different interactive games to choose from and 2 hours to play them, you'll most definitely get a chance to come out on top!  
But hold on high striker… it doesn't end there! 
Not only will you get to play darts to your hearts content, you'll also get the chance to eat some delicious food after working up an appetite! 
Tease your tastebuds as you and your team chow down on a selection of gourmet pizzas made just for you, followed by a mouth-watering dessert to satisfy your sweet tooth. Then, wash it all down with a drink or two from Oche's beautiful bar area - the perfect way to celebrate your win (or forget your loss…)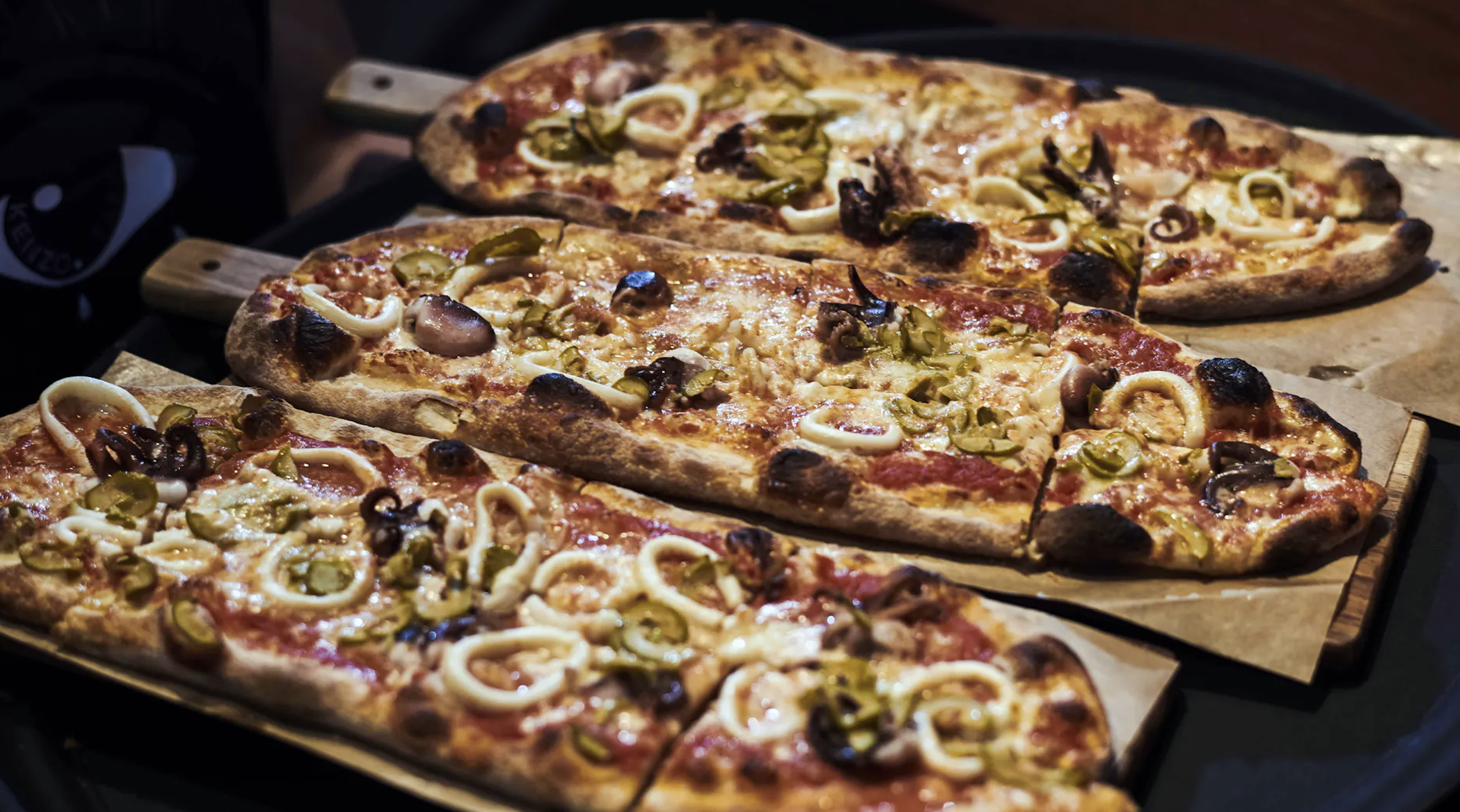 So, if you're looking for a team day out full of excitement, adrenaline, fantastic food and delicious drinks then you have to book the 'Rocket On Board' experience with Thames Rockets.
Rocket on board and step up to the Oche with this #1 London away day - the perfect way to impress your team and colleagues! 
What is included in this London team day out? 
Thames Rockets: 
A Thames Rockets 50 minute 'Ultimate London Adventure' London speedboat experience along the river Thames - departing from and returning to the London Eye Pier. 
- Music through the ages on board. 
A professionally trained actor/comedian guide with your team the whole way 
35mph speeds along the world famous river Thames 
Oche Strand: 
A semi-private area for you and your team 
2 hours of game time 
5 different interactive games to choose from 
1 gourmet pizza and dessert per person 
3 drinks per person (bottled beer, house wine, house spirit and mixer, any soft drink) 
If darts aren't really your thing, why not check out one of our other amazing London team building activities? 
What other team building activities do Thames Rockets offer? 
Rocket Up At The O2 (For Groups!)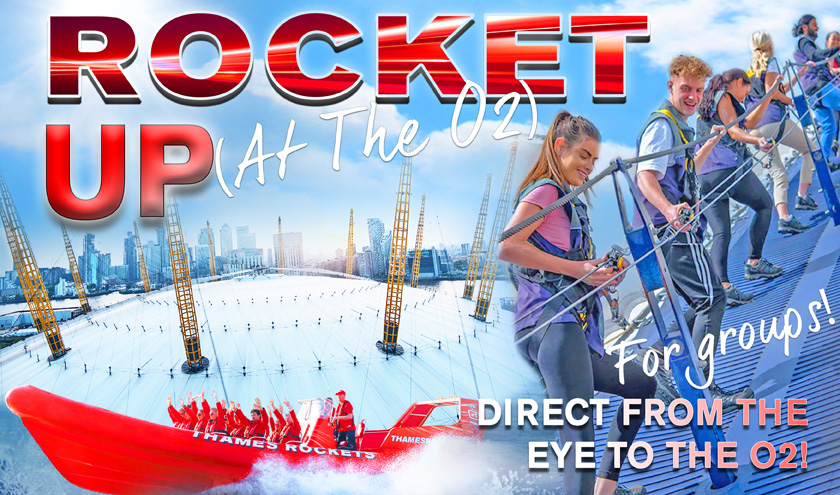 If your group are a little more adrenaline driven, why not join us for an incredible 80 minute Thames Rockets experience - our most premium with more sights, maximum speed and a direct transfer to the O2 arena. Once we've dropped you at the O2, head on over to Up At The O2 where you'll get suited and booted and climb one of London's most iconic landmarks! Prepare for a staggering 30 degree incline, 52 meters above ground! But don't worry, once you reach the top you can enjoy the most immense 360 panoramic views of the historic Greenwich landscapes including the Olympic park, Tower Bridge, The Shard and don't forget, you may even see a beautiful red speedboat zooming by! 
Or, just fancy a speedboat ride? 
Why not check out some of our famous experience's here? We offer London speedboat experiences ranging from 45 minutes - 80 minutes that are the perfect addition to any team building experience! Want to find out more? Click here to enquire for your group now.
Like this blog?
You'll love these trips!