Sun, sports and speedboats!
Published by Fern Pearson 1984 days ago
Sun, sport and speedboats!
London's scorching heatwave is here to stay with the Wimbledon championships set for wall-to-wall sunshine - the Met Office have forecast the warm weather to last for over a month!
If you're heading outside this weekend whether it's to watch Wimbledon, the World Cup… (P.S. it's coming home) or even if sport isn't your thing you're likely to be greeted by beautiful blue skies and sizzling sunshine! Check out our #julyskies series on our Facebook page over the coming month!
Spirits are high in the capital this week due to the wonderful weather coinciding with a sporting bonanza of Wimbledon and England winning their first EVER penalty shootout in the World Cup. England are now through to the quarter finals and we've been waving our St. George's flag frantically on the pier!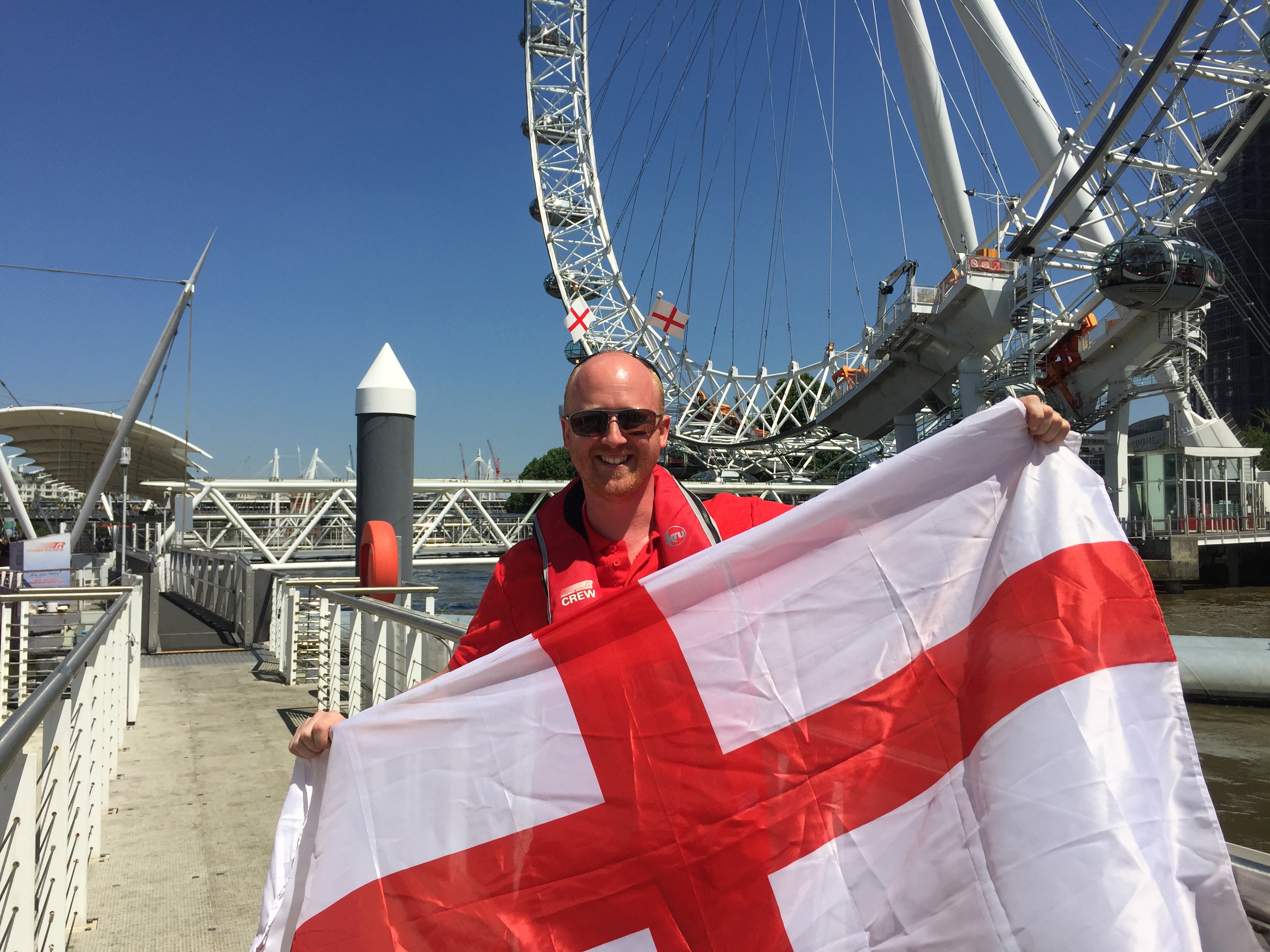 The weather has been a real hot topic this week…  So why stay at home this weekend and watch the sports when you can experience it! If you can't actually make it to the courts themselves then why not pull up a deck chair at St Katharine Docks, they will be screening the Wimbledon matches on a screen that floats in the dock itself. Simply sink into a deck chair or bean bag and watch all of the live action unfold. 
We couldn't help notice that the colours of the St George's flag match the colours of a certain No.1 speed boat operator... so in honour of this never before seen heatwave we decided in Thames Rockets HQ to compile a list of our top summer treats of red and white food: 
Jane Kelly (General Manager) "I love a glass of Pimm's on a Sunday afternoon!"
Stacey Evans (Guide) "I very much enjoy a Bakewell Tart as an afternoon pick me up after a 9 trip day and I always give my glacier cherry to the skipper."
Fern Pearson (Marketing Coordinator) "Eating strawberries and cream while watching Wimbledon is bliss!"
Mike Cole (Assistant Manager) "My freezer is always stocked up with Strawberry cornettos!"
Angela Dunn (Bookings Manager) "I love going for afternoon tea and eating scones smothered with jam!"
However…
We would not recommend eating any of these on a speedboat!
Whatever you choose to do this weekend make sure to make the most of this blissful English sunshine!
Like this blog?
You'll love these trips!