Quirky Things To Do This Mother's Day For Free!
Published by Maisie Walker 637 days ago
Even though one day really isn't enough to express all the love we have for one of the most important people in our lives, Mother's Day is the time for us to show those magnificent mums just how incredible they really are! 
Need some ideas for Mother's Day this year? Well… you've come to the right place! 
Here at Thames Rockets, we're all about 'little wins' which is why we've decided to help you treat your mum to the BEST Mother's Day ever for FREE!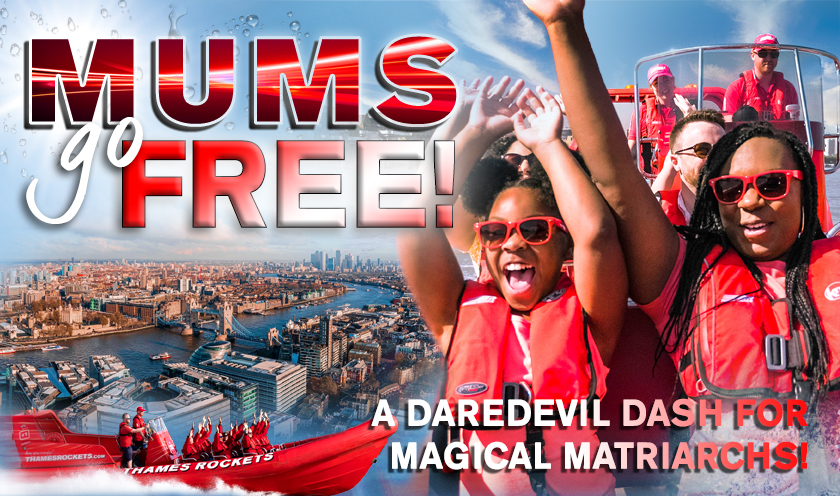 Usually if you ask mum what she wants on Mother's Day, she will say 'quality time with you'. So this year, let's ditch the flowers, mugs and keyrings and blast quality time to new heights with a red rocket Thames speedboat adventure - guaranteed to score you some brownie points! 
Not only will mum feel like royalty as she flies past iconic London landmarks at 35mph, she will be wooed by our hilarious, award-winning guides as they keep the banter flowing all the way from The London Eye to Canary Wharf. 
Hold on tight and watch mum let her hair down, throw her rulebook overboard and showcase those mummy moves to the perfect classic hits playlist that'll take her though the ages! She'll feel the rush of the river and the wind in her hair, twisting and turning through the beautiful capital. 
You'll see incredible sights, laugh along the Thames with our guides, and listen to classic tunes, but most of all, you will get the chance to spend some well deserved quality time with the one that loves you the most! 
Enjoy some family-fun time and make memories this Mother's Day because deep down, we know that every mum is a secret daredevil! 
Mum's, are you ready?
One adult seat automatically deducted at the checkout when two or more seats are reserved, Mums Go Free!