London New Year's Eve With Thames Rockets!
Published by Maisie Walker 344 days ago
And just like that, 2022 comes to an end… and of course Thames Rockets finished it in style! 
After a two year wait, the London Eye announced that their world famous London fireworks display was going ahead for New Year's Eve 2022, which meant our incredible end of year experience was coming back once again! 
When it comes to New Year's Eve in London, the crowds are usually the first thing that pop into mind, but when you join Thames Rockets, you can forget about all of that because our exclusive boats for 12 take you away from the crowds and right into the action!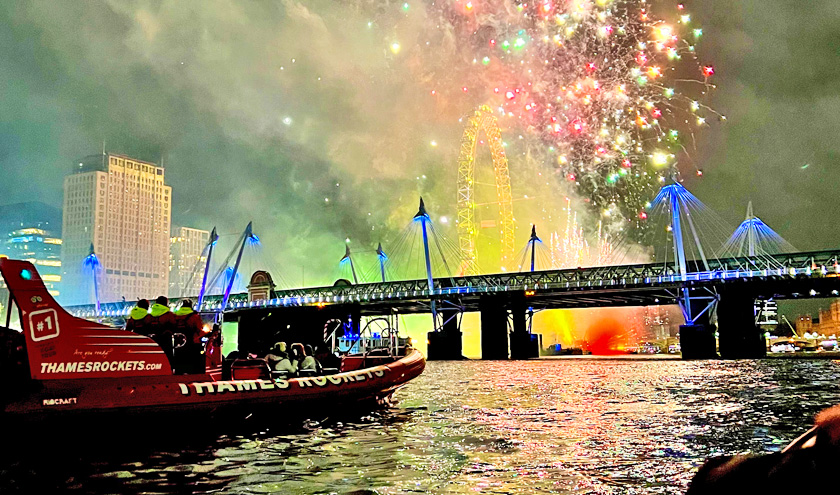 This year, our guests experienced front row seats to the London New Year's Eve fireworks display whilst enjoying special snacks, bubbly and some more tasty drinks on board. Not only that, but they also got to travel through the city and see some of London's most iconic sights including: St Paul's Cathedral, Tower Bridge, HMS Belfast, the beautiful Illuminated River display by Leo Villareal and of course, The London Eye. 
To begin, we set off at 11pm from Bankside Pier (right next to Shakespeare's Globe) and then made our way down up the river Thames to get some photos in front of Tower Bridge while it was beautifully lit up in the darkness. We then headed back down towards the London Eye, passing St Pauls's Cathedral, HMS Belfast and sailing underneath the beautifully lit bridges.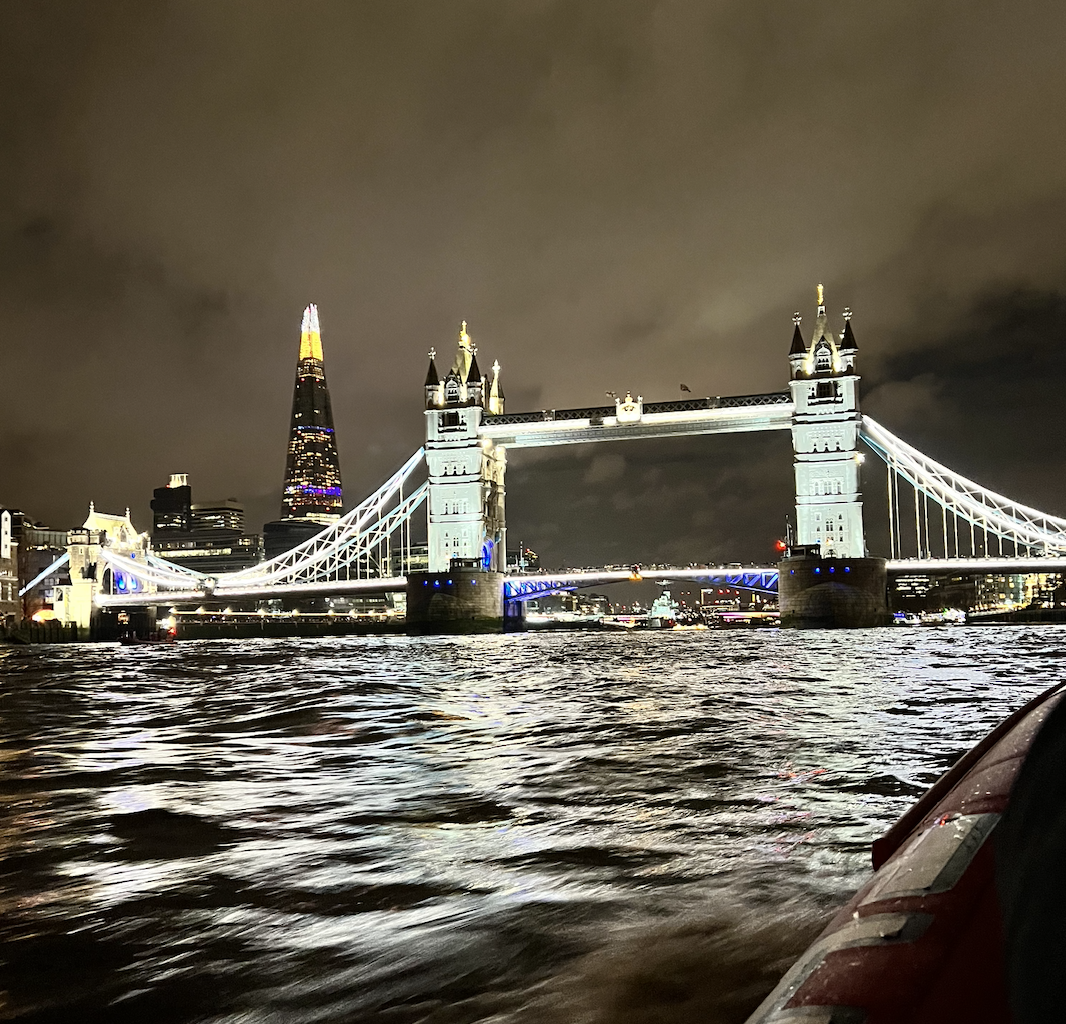 As we cruised along the river Thames, we listened to an extra special 2022 throwback playlist to help us remember all of the amazing things that happened in the last year. 
Then it was finally time to find the best spot on the river. Our skippers edged closer to the London Eye and secured us the best seats in the house… FRONT ROW! As we sat, waited and watched the crowds line the river banks, we popped some bubbly and tucked into our tasty treats selection. As the streets got busier, the music got louder and the cheering started, we knew it was nearly time to say hello to 2023. 
Then, it was time for the main event.
After seeing the huge crowds wait in anticipation, we finally heard the countdown…
5
4
3
2
1 
HAPPY NEW YEAR!  
Big Ben chimed in 2023 and the London Eye fireworks began.  
The atmosphere was absolutely indescribable. It was magical.  
We saw the London Eye pay tribute to our beloved late Queen Elizabeth and stunning red hearts paired with beautiful music - enough to get anyone feeling a little emotional!
As we sat right in front of the immense NYE display, it was impossible not to feel grateful for having the opportunity to experience one of the most famous displays in the world (especially with front row river seats!)
 

 

 

View this post on Instagram
Once the fireworks had finished, all of the boats on the river honked their horns while the crowds came together to sing Auld Lang Syne. The screams of 'Happy New Year's' filled the air and with that, 2022 came to an end. 
We then made our way back to Bankside Pier and dropped off our lovely passengers so they could carry on their celebrations -there really is NO better way to celebrate New Year's Eve.
NYE 2022 may be over, but we get to do it all again this year and this time it could be you on board! 
If you would like to join us for New Year's Eve 2023, click here to be added to our waiting list and to be the first to get your hands on tickets before they sell out! 
Limited seats available - Guaranteed sell out. 
Are you ready for New Year's Eve 2023?
 

 

 

View this post on Instagram
Like this blog?
You'll love these trips!