London RIB Voyages Awarded Trip Advisor Certificate of Excellence
Published by Thames Rockets 4190 days ago
We were delighted to be awarded Trip Advisor's prestigious 'Certificate of Excellence' award last night. An award ceremony was held in Regent Street's Aqua Nueva restaurant, where a number of hotels and attractions received commendations on their service. The awards were presented by Trip Advisor's celebrity mascot, Olly the Owl... and we were very excited to meet him.
The Certificate of Excellence award is Trip Advisor's way of celebrating excellence in the hospitality industry. Winners are chosen from those who consistently achieve outstanding traveller reviews on the site. Competition for the award is tough, as to qualify a business needs to maintain an overall rating of four stars or higher. Thankfully recent guests of London RIB Voyages have been more than generous with their kind words, leaving a host of lovely reviews of their experiences.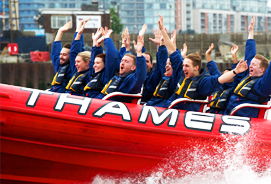 Here are a few recent reviews for our trips:
Mark H 
Host Amy was very, very amusing. It was perhaps the best touristy thing I've done in London. The buildings along the river are stunning too. - 17th June 2012
Sarah L 
I haven't laughed and whooped so much in years! - 12th June 2012
Chris A 
My brother recommended this trip to me and I thought he might be overplaying it!! Words simply can't overplay it!! It really is fantastic from the moment you step into the boat. Our guide (Stacey) was both incredibly knowledgeable and witty and kept us entertained from start to finish. if you are in London make this trip a must! - 11th June 2012
Edward M 
Fantastic! A really fascinating tour from Tom with many facts that you won't hear on the other tours and then when you get the other side of Tower Bridge and Tom 2 opens up the throttle, WOW! Tom and Tom do a brilliant job to make this a must-do in London. - 8th June 2012
Managing Director Charlie Matheson said: We are delighted to have won this prestigious accolade. The fantastic experience of those on board London RIB Voyages is our priority, so to find that our customers have enjoyed themselves and taken the time to post their kind feedback on our page means the world to us! We are hugely proud of our trip advisor ratings, particularly as Trip Advisor is widely regarded as being a reliable service, providing reviews consumers can trust. To see the full list of reviews for London RIB Voyages please visit our Trip Advisor page.
Like this blog?
You'll love these trips!