Celebrations for London Speedboat Sightseeing!
Published by Mike Cole 1224 days ago
There was welcome cause for celebration at Rocket HQ last week as we humbly received our 10,000th review on (public led) TripAdvisor.
We always love reading the feedback from our valued passengers following their time on board (and we read every single one!). From birthday celebrations to family outings, anniversaries to first dates, our mission is to provide the very best experience each and every time no matter what the reason for your visit may be.
Our 10,000th review was posted by adrian999952 following their family outing to celebrate a sixth birthday, and as always, we couldn't be happier to have been part of it!
Really good fun...
"We took over a whole boat for a sixth birthday family trip. Everybody had fun - Coronavirus prep and precautions all excellent. Our guide Pete did as much or as little sightseeing as we wanted. Very fast!"
It only seemed right to take some time out of our busy reopening schedules to mark this special event in Thames Rockets history. So obviously the boat was decorated with as many red balloons as we could get our hands on, guide Pete was invited to play guest of honour and we popped the champagne to cheers this huge milestone.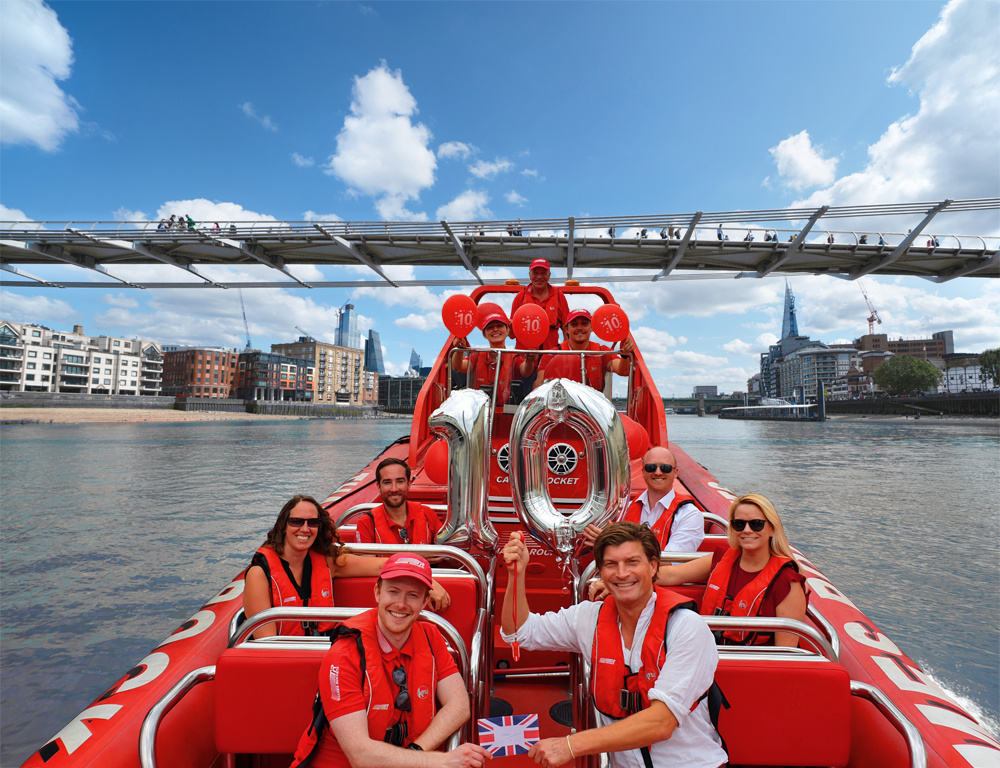 Pete became a Thames Rockets guide in early 2019, quickly settled into the team, and passengers have been taking to TripAdvisor ever since to shout about their time on board with him. Pete always ensures that every passenger has a unique experience and loves nothing more than to see the reviews and feedback come flooding in after a busy weekend. 
He said, "It's a massive team effort and I know how hard everyone has been working to keep this unique business 'afloat' during the last few months. I'm so pleased to have been the 10,000th review but this really is something the whole company can be proud of. I guess I just feel like the lucky millionth customer!"
Founder and Director, Charlie Matheson presented a token of gratitude on board and before we knew it, it was time to get back to business, but not before the management team found five minutes for a quick photo-op at their iconic departure point - The London Eye - just the day before their big reopening.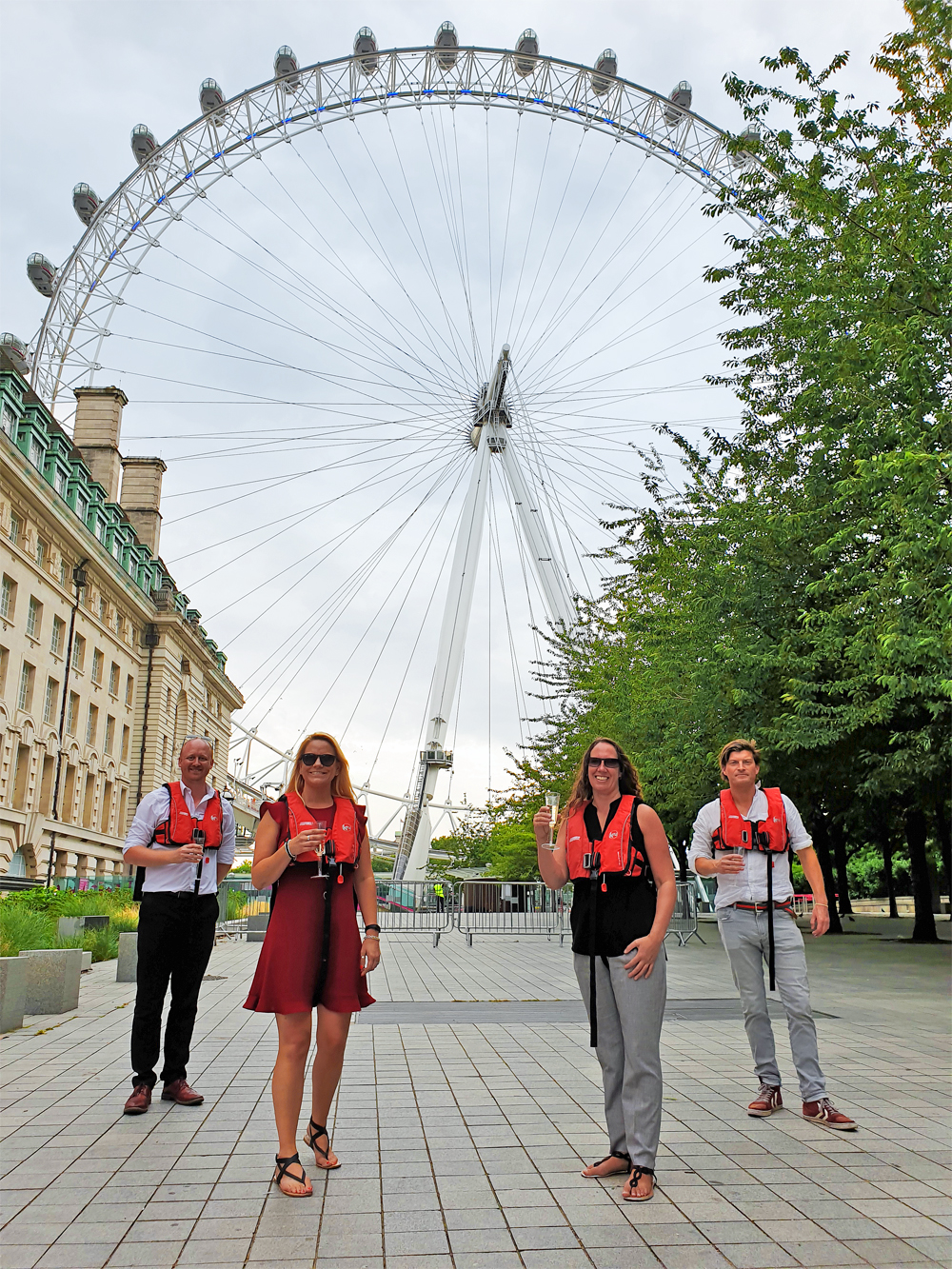 General Manager, Jane Kelly said, "We are so proud of the team across all departments for reaching this remarkable milestone. 10,000 reviews is something to be proud of, especially given how 2020 has unfolded for tourism (and the rest of the world) thus far. I am so proud of our teams resilience, strength and kindness throughout this complex time. Thames Rockets genuinely care about each other, as well as all our visitors who's enjoyment is our continued reward and motivation. 
It is a real and outstanding testament to the high standard and dedication we have strived to maintain year on year. We can't wait to get the season well and truly 'underway' and start working 'full speed ahead' towards the next 10,000! #londontogether"
As the milestone review was all about spending time with the family we think it is only right to celebrate with an unbeatable family ticket offer - just in time for the summer holidays!

Our 'Fantastic Four' family ticket (2 adults, 2 children) has now 'relaunched' just in time for the school holidays, and for the next 10 DAYS at an incredible £99!  Come and join the 10,000 strong and make memories with your loved ones on board this summer. The countdown begins...

Treat the kids to something completely different this year and whizz them out for a summer treat to remember. As always our comedian guides will be ready and raring to give them a (little) history lesson like no other - in a classroom like no other, if they remember those?!

Once past Tower Bridge the fun really kicks in with the twin 880hp engines revving into action, (finally) time to sit back and relax Mum and Dad, we've got this covered!! Hold on tight and find out why Thames Rockets passengers have made us the #1 'thing to do' in London.

A HUGE thank you to those who have taken the time to review our experiences over the years.

We can't wait to welcome you and your families back aboard this summer.
Like this blog?
You'll love these trips!