Meet The Guide: Brummy Boy!
Published by Thames Rockets 3588 days ago
Our witty guides are an integral part of the London RIB experience, and they do a great job entertaining each and every single thrill-seeker that climbs aboard our boats. But lately one of our guides has been standing out, and attracting much attention on our TripAdvisor page. And that guide is our dear Brummy Boy!
Brummy Boy, aka James Clay, has long been a treasured member of the London RIB Voyages team, but he must've stepped his anecdotes up a notch lately because we've noticed much acclaim for his tours...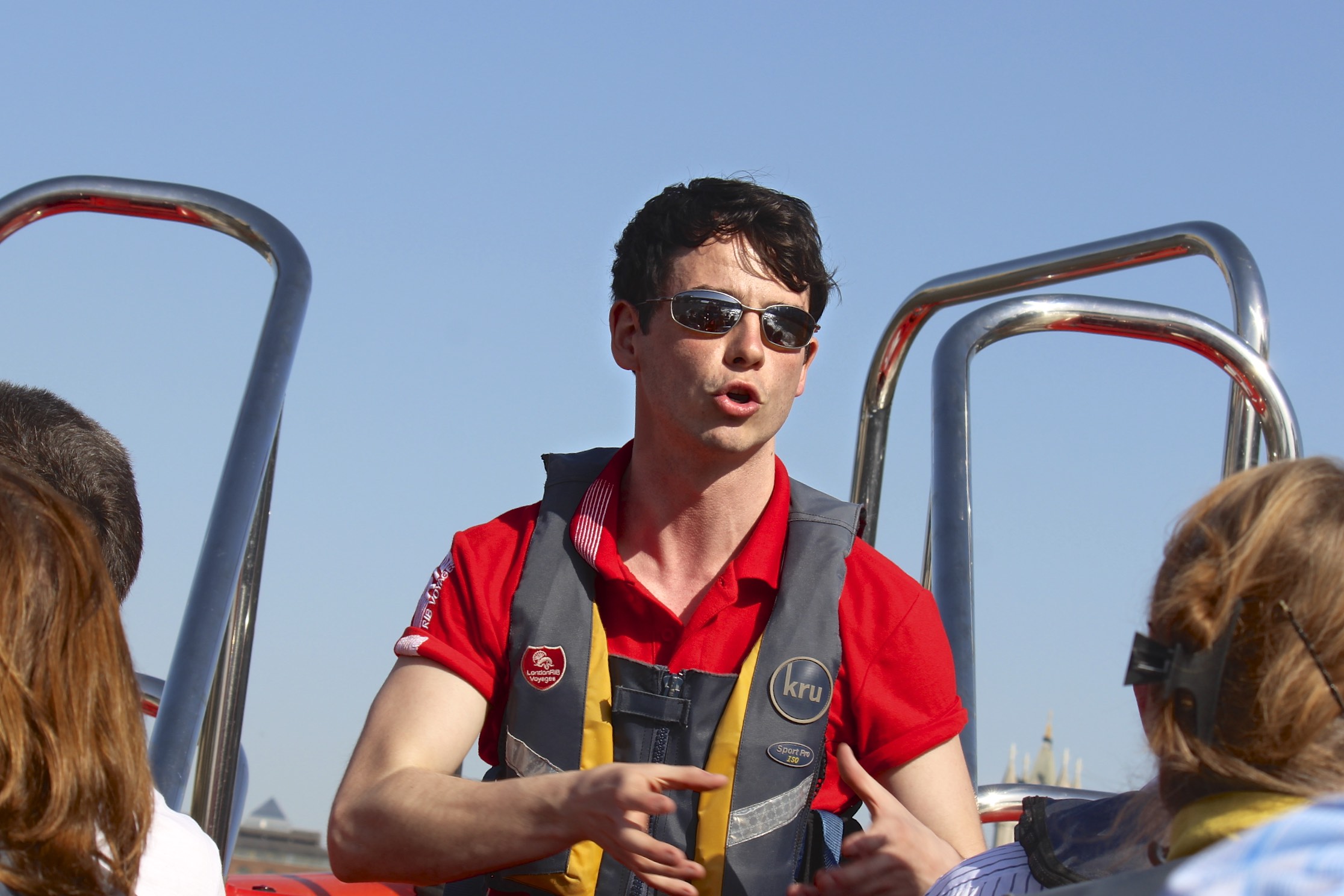 Here are a few of our favourite reviews featuring Brummy Boy.
Kelly said: 'Took the family out for the day. Decided a speedboat trip was ideal for the kids.. James and Tom were absolutely fantastic. Made the trip one to remember!! Thanks guys will definitely be back again!!'
Awrattner said: 'We went on the London RIB Voyages tour of the Thames and were lucky enough to have James as our tour guide - the whole experience was amazing! James made a special effort to get to know all the passengers and gave a funny and very interesting tour of the sites along the Thames.'
Lfbar said: 'An adventure with great music and a funny and informative guided tour as well. (Thanks James!) l will be doing it again!'
Charmaine said: 'Booked this trip for me and a few girlfriends and it was absolutely brilliant! Had James as our tour guide and he filled the ride with lots of funny and interesting information about the sights - was a brilliant guide!'
Shejo said: 'Booked this for my grandson's 10th birthday, who is James Bond mad. It was absolutely fabulous, should have seen his face when the Bond music came on. James's commentary was great, funny and informative and Ian's driving was well, amazing.'
James Clay is also a trained actor, having starred in productions such as Merchant of Venice, All My Sons and Lord of the Flies. He has also featured in a fair few television programmes, look out for him in Casualty, Midsummer Murders, Doctors and Whitechapel. And if you'd like to take a look at it's movie star debut you can catch him starring as Jeremy Spenser in My Week With Marilyn! So a big thank you to you, James. May the hilarity on board continue, and may your anecdotes reach all the ears of London!
Like this blog?
You'll love these trips!