Beware The Barrier: The View From Onboard
Published by Thames Rockets 3692 days ago
Last night our spooktacular Halloween experience kicked off in true London RIB Voyages style, aboard our brand new Thames Rockets. So what was like? Well I got a sneek preview of the most frightening trip on the Thames and I'm here to tell you all about it. Hold on to your hats, because this was one bumpy ride.
We began at St Katharine's Dock, mere moments from one of the most haunted spots in London, the Tower's infamous Traitor's Gate. On board the rocket (which was suitably dressed for the occasion - cobwebs and police tape galore) were an insane cast of Halloween characters, ready to scare the wits out of all those brave enough to climb aboard. As the boat left the pier it was too late to turn back, a madman skipper (aka Ian) held the ropes, and he wasn't going to let his passengers off lightly. So off we soared, through the Thames waters at serious speed. A spooky soundtrack set the scene, with screams echoing from the boat's speakers across the dark, deserted waters.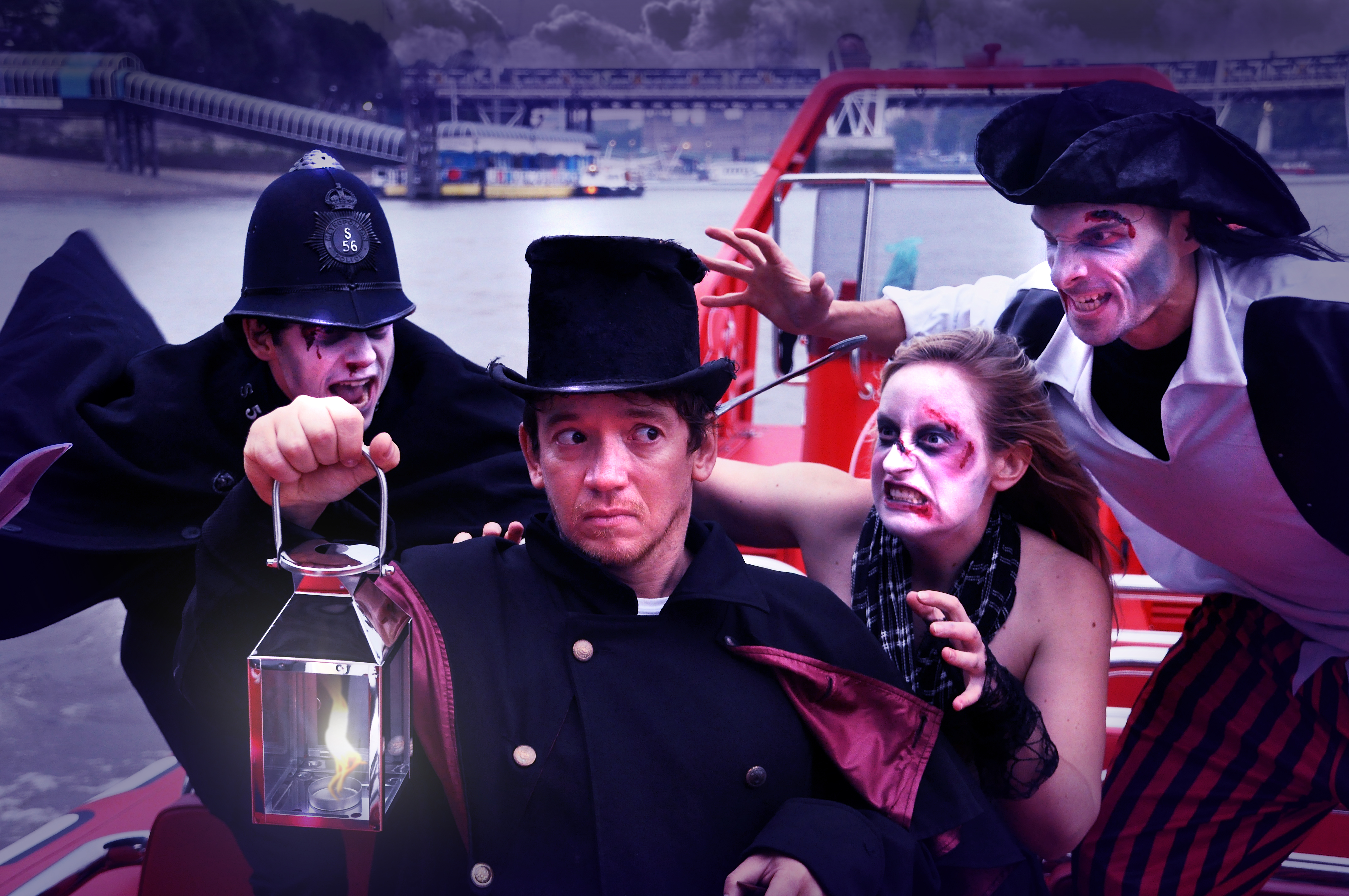 At Greenwich the passengers caught their breath, but not for long because their crazed comedian guide was full of ghost stories and spooky happenings to put a shiver up their spines. Want to know all about the Queen's House child ghost? Just ask him... This was the first time speedboats have soared along the Thames in the dead of night, and in the midst of Halloween the timing couldn't have been more perfect.
The sight of London by night, and the darkness of the Thames certainly added a terrifically terrifying touch to the experience! The approach to the Thames Barrier was certainly something to beware of, with the pitch black river and faraway buildings looming in an eerie silence. But it wasn't long before Michael Jackson's thriller severed the silence as the boat span around and back to its destination to the sounds of the freakish yet brilliant Adams Family.
It wasn't all trick and no treat, though. Our comedian guide showed his kinder side as the boat docked, presenting his thoroughly frightened passengers with a toffee apple or two. It certainly helped us recuperate after the journey! Think you're brave enough to give Beware the Barrier a try? Book your ticket today! It's available this weekend only, so don't delay...
Like this blog?
You'll love these trips!