2013 with London RIB Voyages
Published by Thames Rockets 3562 days ago
Another year of adrenaline-pumping adventures is coming to a close and we're looking back on a whole twelve months of high-speed escapades in the beautiful city of London.  We saw our fair share of famous faces, some sporting greats stepped onboard and we launched our speediest adventure yet - Break The Barrier. Here's our round up of 2013! 2013 saw the launch of our most thrilling high-speed adventure yet, Break The Barrier.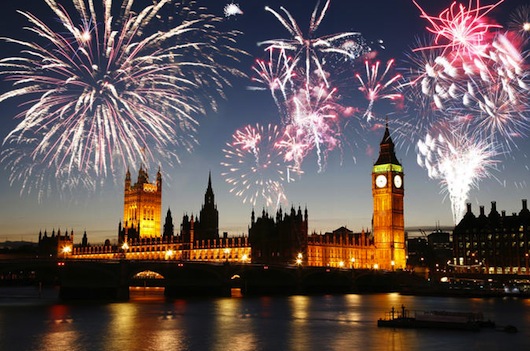 It was fast, it was furious and it was a world first! Break the Barrier was launched as a result of feedback we had from customers who raved about the excitement and speed of London RIB Voyages, leading us to wonder if we could operate a new adventure with an even faster pace than our original trips. Our answer was Break The Barrier - a brand new experience operating solely in the Thames High Speed Zone, aboard our racy red speedboats. London RIB Voyages were the first to create such an experience, and since its launch Break the Barrier has been very well received, and we're looking forward to another year of high speed sailings in 2014.  
We began the year in the most brilliant of ways, getting the seal of approval from M herself! We always thought our tours were Bond-worthy, to tell you the truth, so you can imagine our excitement when we received a surprise visit from legendary actress Dame Judi Dench, who was welcomed aboard at our London Eye pier. Of course we couldn't let her leave until we got a photograph...
Another famous face stepped onboard our luxury Thames Flyer in May - this time it was boxing royalty Mikkel Kessler -  a five-time world champion who has held the WBA title two additional times and the WBC super middleweight championship twice as well! When this Danish star needed some stylish high-speed transport to his hotly anticipated rematch with IBF Champion Carl Froch we were only too happy to oblige.  We also played host to the delightful Jedward this year - a surprise highlight for the whole team! In August we were delighted to get involved in The Mayor's Thames Festival, an incredible celebration of nautical fun involving art, music and educational events. For the first time the annual festival was extended beyond its usual weekend of riverside animations to a wider season of events along the river. Music to our ears!
We kicked off September with a starring role in The Great River Race, an almighty nautical challenge which sees team race along a 21 mile stretch, from London's Docklands to Ham in Surrey. It is is to the Thames what the Marathon is to the capital - And guess who was in charge of supplying the official filming and support vessels for this unique event? (Clue: It was us.) We got involved in both the World Clipper Race and the Official Boat Race too this year, as official Boat Race suppliers and providers of life and support boats for the Clipper Race.  Our team also got involved with the river police this year, who have trained us all up for emergency drills on the water. We do like to be one step ahead of our fellow boats! Halloween was as spooky as ever at London RIB Voyages, and this year we pulled out all the stops creating a Spooktacular Break the Barrier tour.. in the dark. Hosted by zombies, monsters and ghoulish characters our guests had the wits scared out of them at serious speed. Look out for it in 2014 if you think you're brave enough... The winter season brought with it the return of our legendary Jingle Bell Blast - featuring Santa Claus himself! Our annual Christmas experience enabled guests to get into the festive spirit in true London RIB Voyages style - with our whizzy winter adventure.
In December we met the legendary Ozzy Osbourne, taking him to his gig at the O2 in style. The cab doubled as his personal dressing room, making for a slightly surreal experience as he stepped out in full costume ready to take to the stage.   We've also been delighted to help many of our guests celebrate very special moments, from birthdays and anniversaries to engagements. So a big thank you to those of you who have let us share in your special memories - we do love a happy ending! Our favourite day in 2013? Well that's a no-brainer. One fine day in 2013 we moved up to 2nd position on TripAdvisor - a triumph for us, which was all thanks to the brilliant feedback we've received from our guests. It doesn't get better than that!
Like this blog?
You'll love these trips!